CCLF introduces its 2019 Annual Report, the first-ever digital publication in the agency's history…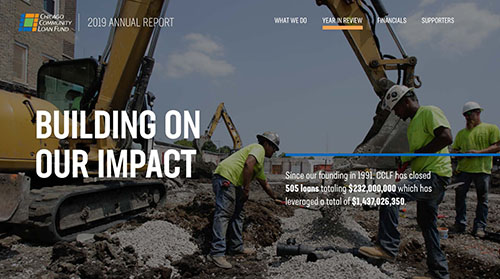 Building On reflects CCLF's mission and highlights the 2019 accomplishments that have prepared CCLF to meet current challenges brought on by the COVID-19 pandemic and civil unrest. The digital platform fully outlines CCLF's 2019 financial results, features an interactive map of CCLF's Chicagoland loans in its portfolio, and includes profiles of CCLF borrowers and their projects – Amped Kitchens, Greater Chicagoland Fellowship, Growing Home and The Lillian Marcie Theater.
Building On was designed and developed by Blue Daring, a Women's Business Enterprise (WBE), with collaborative support from Calvin L. Holmes, CCLF President; Juan Calixto, Vice President of External Relations; and Pamela Graves, Marketing and Communications Manager. Digital development was made possible by Blueshoon and select photography was provided by Steve Becker Photography and Ana Miyares Photography, LLC.