During a year of health challenges and civil unrest, CCLF ended 2020 as an organization better positioned to ensure capital continued to flow in low-income areas throughout Chicagoland.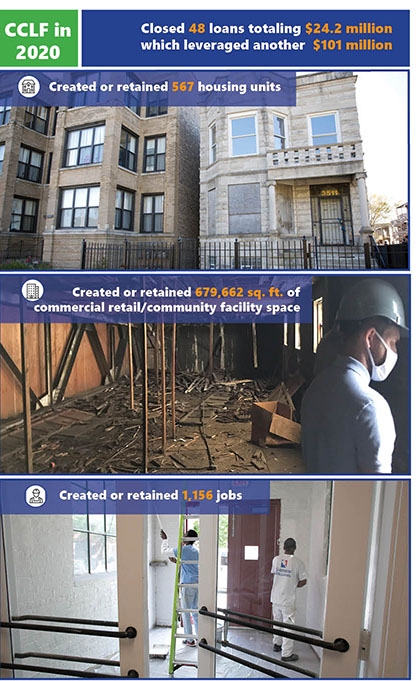 CCLF ended 2020 with nearly $97 million in loans outstanding to 179 customers working to create communities where people thrive.
CCLF completed 48 loans totaling $24.2 million which created or retained 567 housing units and developed or retained 679,662 square feet of commercial real estate and community facility space. The number of jobs created or retained by our borrowers totaled 1,156.
Since its founding in 1991, CCLF has closed 545 loans totaling $253,269,277 which has leveraged a total of $1,457,680,595. Further highlights from 2020 include the launch of a PPP Pop-up Virtual Call Center serving 110 clients, the Chicagoland COVID-19 Resource Guide that was accessed by 6,680 individuals, low-interest loans and grants made to 929 small businesses and nonprofits totaling $11.9 million. Other highlights include administration of Cook County's Recovery Fund serving 558 gig workers and small businesses with forgivable loans totaling $9 million, and continued lending for affordable housing and commercial retail in a constantly changing environment. CCLF also developed and approved a new strategic plan which includes goals to lend $100 million in low- and moderate-income communities of color over the next four years and nearly double its size to $200 million in assets. During all of this, CCLF maintained its three-star (***) AA- Aeris™ rating.
CCLF thanks all of its investors and funding partners which acted swiftly to provide relief to CCLF borrowers and provide access to technical assistance for nonprofits and small businesses, many owned by persons of color, so they could stabilize and continue to provide goods and services during the pandemic. Many unknowns remain as we begin FY 2021, but CCLF has a strong foundation and expert partners to meet new challenges and ensure low- to moderate-income neighborhoods continue to have access to needed capital and technical assistance to remain resilient and rebound from our crises.