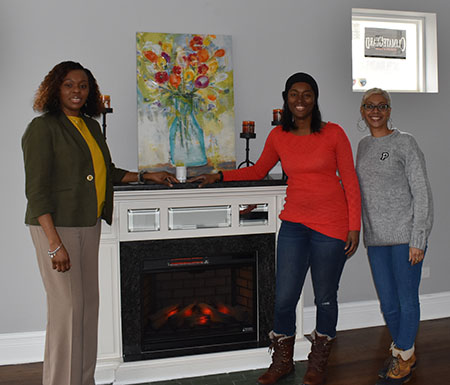 RPT Development Group, Inc. and Takeisha Washington are working hard to reshape Chicago's affordable housing landscape. Washington, President of RPT Development, has a strong relationship with CCLF and has played an integral role in helping to rebuild and restructure Chicago's neglected neighborhoods.
Established in 2007, RPT Development is dedicated to the identification, acquisition, rehabilitation and sale of single-family, affordable homes. "My first project with CCLF was about five years ago," Washington explains. "It was for a property on Monroe and Oakley. This was a renovation where I had to do a complete gut-out and changed a single-family house to a two-unit. The owner has been living there ever since I finished the project."
RPT Development's complete rehab of the property in West Garfield Park maintained the architectural gems of the property while adding modern amenities. The project included refurbished baths for both units and a full-view deck on the second floor.
In early January 2020, Washington finalized the work and was preparing to close on the sale of her latest achievement—the rehabilitation and sale of a two-unit property in the West Garfield Park neighborhood. CCLF provided RPT Development a $170,000 loan for the acquisition/rehab of the property, located at 3901 W. Monroe. The loan is part of the Chicago Neighborhood Rebuild Pilot Program, a collaborative effort between the Cara, CCLF, the City of Chicago, the Cook County Land Bank Authority, Community Investment Corporation and The Safer Foundation to facilitate the acquisition and redevelopment of single family and two-flat vacant or abandoned properties for new homeowners in higher crime areas within the 7th, 10th and 11th Police Districts.
"When the opportunity came a few years ago for the Rebuild program, I received notification from CCLF and applied for it," Washington recalls. "They were looking for people who were involved in the community or had property in the community. I grew up in Austin and I have family that lives in Garfield Park, so I applied."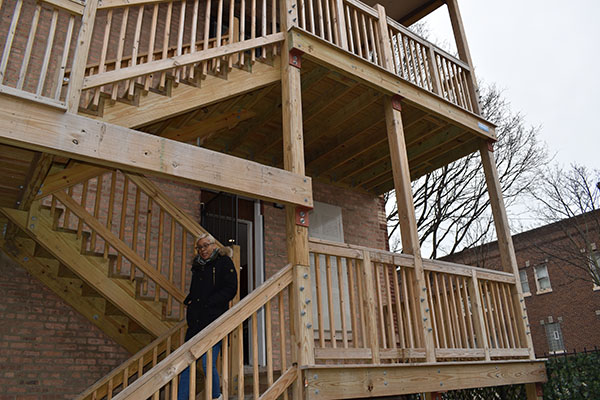 "Rebuild is a pilot program and I was part of the first group accepted," Washington continues. When Washington placed the West Garfield property on the market, buyers lined up immediately for showings with offers made within a week. The home closed the first week of March 2020. "I am the second person to sell [my property] in the Rebuild program," Washington says.
The West Garfield Park property, originally built in 1910, features two units, one with two bedrooms and one bathroom, the other with three bedrooms and one bathroom. The property was long since vacant before Washington's acquisition. She built-out a new bedroom in one unit by adding a closet to the space. The extensive work overall included a gut rehab with renovated kitchens, new windows, laundry rooms, fireplaces, and a rebuilt outside back porch and stairs, adding charm to the property.
"I wanted to keep the original stairs so I sanded them down instead of replacing, Washington says. "I wanted to keep as much of the original structure as possible."
"This house in West Garfield Park is my second project with CCLF. I am starting another project with CCLF financing and just received the permit from the city in January to begin work. So this will be my third project working with CCLF. This property is on Gladys and Chicago Avenue. It is not a sale; it will be an affordable housing rental."
Washington's journey with CCLF has been one of support and sustainability. "When I first started back then, I had a property and I had no clue how I was going to get the work done," she recalls. "I started asking questions and connecting with people for referrals for banks. Because I didn't have several projects going, it was much harder to get funding from a lot of the big banks. I reached out to CCLF and told them my story, told them what I wanted to do, and told them about the property."
"Working with CCLF was more organic because I think a traditional bank might not have taken a risk on me," she continues. "CCLF took a chance and listened to what I was trying to do and gave me an opportunity."
In addition, Washington utilized the workshops offered through CCLF's Technical Assistance Gateway.. "I participated in a workshop a few years ago about getting started with CCLF before I received the funding. The workshop covered bank draws, how the process worked with CCLF and the documents needed."
Besides the support and long-standing relationship with CCLF, Washington and RPT Development were recently lauded during the February announcement by West Side United and Chicago Mayor Lori Lightfoot for community improvements across the city's West Side. West Side United established a $5 million fund to offer low-interest loans to West Side businesses and neighborhood initiatives that work to increase the life expectancy of residents on the West Side. Washington was the profiled developer in the media coverage of this announcement, including coverage from ABC-7 Chicago and The Chicago Tribune.
"I have a passion for affordable housing and community-based projects," Washington concludes. "I recently started an organization focused on creating transitional housing for homeless women and children. It's empowering for people to have affordable housing. I enjoy being a part of projects where you can create and provide that."