Approximately 1,000 area residents, supporters, and art enthusiasts converged on downtown Aurora, Illinois, June 1, 2019, for the official ribbon-cutting and open house of the John C. Dunham Aurora Arts Center. Attendees had a chance to tour the new facilities, participate in sample classes, and meet staff.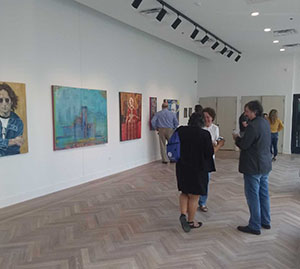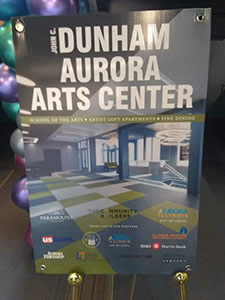 Located at the corner of Galena Boulevard and Stolp Avenue, the CCLF-funded Aurora Arts Center, a project of The Community Builders (TCB), is part of a renaissance taking place in downtown Aurora, which also includes the nearby Paramount School of the Arts and the Paramount Theatre.
Community excitement and optimism has grown for the 38,000-square-foot, three-story Arts Center since its announcement in 2017. Originally built in 1928, the site formerly served two separate purposes. The building at 5 E. Galena Boulevard was the original site of the Block & Kuhl department store (later acquired by Carson Pirie Scott & Company). The 14-20 S. Stolp address was the site of the Stanley Furniture store. Both buildings were combined into a single facility when the Waubonsee Community College acquired and renovated the property in 1986.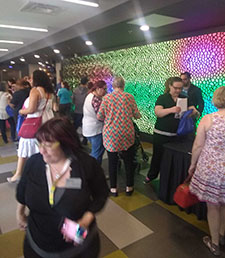 Now the complex is expected to provide educational outlets for up-and-coming young artists with classes in music, dance and performance. Upon mastering their theatrical abilities, students will then have the chance to apply their talents on the Paramount Theatre stage with live performances. The Arts Center also includes Artisan Lofts (affordable apartments for artists) and a locally-owned restaurant on the ground-floor.
CCLF provided an $869,000 line of credit to the Aurora Arts Center. Additional funders of the project include the Dunham Fund, the City of Aurora, Illinois Housing Development Authority (IHDA), Invest Aurora, BMO Harris, US Bank, and TCB.