Chicago's Back of the Yards neighborhood is a historic community known as the home of the Union Stockyards. Located on the southwest side of Chicago, this is the neighborhood that author Upton Sinclair wrote about in the 1906 novel, "The Jungle."
After the stockyards closed in the 1970s, Back of the Yards became a community hard hit by job loss and disinvestment. In recent years, the community area has seen a 15% unemployment rate, with 33% of the population living in poverty, compared to the citywide poverty rate of 22%.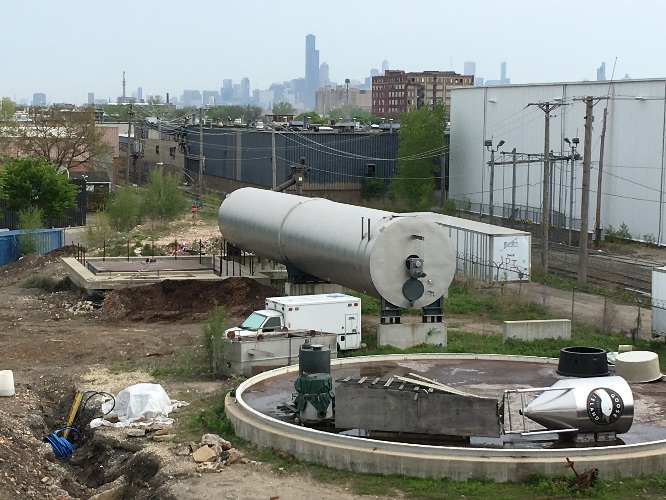 Bubbly Dynamic's The Plant is located here. Once an abandoned meatpacking plant, the building was converted into The Plant,  a net-zero energy vertical farm and research operation housing a collaborative community of local, healthy foods businesses and organizations. The Plant is home to 17 unique tenants, anchored by Whiner Brewery, Just Ice (a specialty ice maker), Great American Cheese and Breads by Bungalow (the fast-growing bread baking arm of Middlebrow Brewery). Approximately half of these businesses are minority- or woman-owned/co-owned, and staff have included hard-to-employ individuals such as disabled veterans, ex-offenders, refugees, and housing-insecure individuals.
In September 2011, CCLF provided a $540,000 loan to Bubbly Dynamics for the purchase and installation of parts of an anaerobic digester and combined heat and power system, to be installed at The Plant. The anaerobic digester produces methane by breaking down food waste. This methane goes through a second stage where it is burned as fuel. The final products are heat, electricity and some dry waste (digestate). This digestate can be sold to local landscape and soil businesses. The heat is used onsite to heat the large commercial building and the electricity provides energy to the tenants at an estimated reduction of grid prices.
Through a grant provided by the Opportunity Finance Network, CCLF provided a second loan to The Plant in May 2019 to complete the build-out of its anaerobic digester. This financing allows Bubbly Dynamics to continue to structure the digester's budget to completion, including exploring the partnership with the Algae Company and Back of the Yards Algae Sciences.
Faced with the COVID-19 pandemic, Bubbly Dynamics has not suffered any vacancies due largely to creative pivoting to online delivery, federal and local subsidies, and its ability to offer rent concessions when necessary. In March 2020, their tenant Closed Loop Farms rotated to create their own "virtual farmer's market," an online delivery portal to sell directly to consumers, and signed up most of the other producers from the building. Within two months, they had expanded to offering products from 20 other businesses. Unlike other food producers reliant on farmers markets and restaurants, they differentiated themselves by serving as a consolidator, so that customers only needed to pay a single delivery fee to access multiple producers' products. Further, from harvest to doorstep, their crew was well versed in food safety practices, adding reassurance that orders were safely delivered.
"They have made significant progress and will continue to get the digester to completion once building operations stabilize," notes Aaron Akers, CCLF Asset Manager. "With operations trending upwards pre-pandemic, and market visibility continuing to rise in the green energy sector, Bubbly Dynamics continues to be a leader in the green movement."