Inquiries from across the country have come in wondering how Chicago was able to merge public housing with the public library system. CCLF's borrower, Evergreen Real Estate Group, did just that when former Mayor Rahm Emanuel sought bids to build public housing on top of a city library. Chicago now boasts three such projects where affordable housing is accessible above a public library, addressing the need for access to affordable housing for seniors while providing a safe space for children, seniors and families to access books, technology, videos, and other resources in their own community.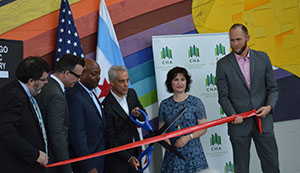 Evergreen Real Estate Group, with over 25 years of experience in property and real estate development of affordable and market-rate housing, developed two of the three library/housing projects in Chicago. CCLF provided predevelopment financing for both projects: $500,000 in financing for the Independence Library and Apartments and $500,000 in financing for the Northtown Library and Apartments. The Independence Library opened in January, creating two new jobs and retaining 10, and the Northtown branch celebrated its ribbon-cutting in May, also creating two new jobs and retaining 10.
Mayor Emanuel made the Northtown ribbon-cutting ceremony his last public appearance as Mayor of Chicago. He wanted to be in the West Ridge community celebrating the opening of a state-of-the-art public library. The facility has specially designed areas catering to the needs of various age groups. There is nook for small children to cuddle up with a book, a short novel section for young readers, and a media center for teens. Help with homework is available as well as assistance for adults conducting job searches. "The library is the only place where people from all different backgrounds gather to learn and share a common space together," said Mayor Emanuel.
Above the library are 44 affordable housing units for senior citizens. At the time of the ribbon-cutting, workers were still putting the final additions on the apartments, but the community was able to tour a model unit. The one-bedroom apartments have access to a laundry room, common room and a garden with a walking path that extends outdoors. The units all have a balcony with a color-coded scheme that matches the front door of the unit, which can be easily identified by residents.
Chicago can expect even more calls from cities near and far as news of this merging of affordable housing with a public library was featured on the front page of The New York Times in the article "Chicago Finds a Way to Improve Public Housing: Libraries," by Michael Kimmelman, May 15, 2019.
Additional financing for the Independence and Northtown Branch Libraries was provided by City of Chicago,Chicago Housing Authority, Chicago Public Library, CIBC, Fifth Third Bank, TCF Commercial Banking, and LISC Chicago.