Over 60 CCLF funders, investors and community partners negotiated severe storms to join CCLF staff and Board Members for CCLF's Annual Stakeholders Meeting. Held June 21st at the Federal Reserve Bank of Chicago, the meeting highlighted CCLF's influence in changing Chicagoland through its lending performance, financial performance and portfolio performance in underserved communities.
Following a welcoming breakfast that provided an opportunity for attendees to meet and network, the meeting began with a message on behalf of CCLF's Board of Directors from Erik L. Hall of GCM Grosvenor and Board Vice Chair. Hall introduced CCLF Board Members in attendance and acknowledged the support and participation of CCLF's partners, investors, funders and supporters. Hall went on to explain the purpose of the Stakeholders Meeting, noting that attendees could expect a high-level summary of CCLF's 2017 and first quarter 2018 performance, as well as an overview of the market impact within the communities CCLF serves.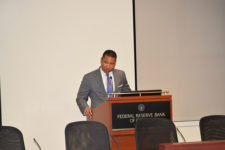 Jason Keller, Economic Development Director for Illinois at the Federal Reserve Bank of Chicago welcomed attendees to the Federal Reserve Bank and discussed Community Reinvestment Act (CRA) reform from the perspective of Federal Reserve Board Governor, Lael Brainard. He observed that the public has the ability to help shape the modernization of CRA though the comment process.
The program shifted to CCLF staff who each presented performance data in key areas. Bob Tucker, Chief Operating Officer and Executive Vice President of Programs, began with a look at CCLF's 2017 Lending Performance and provided an update of the 2017-2020 Strategic Plan. Tucker explained to the group that CCLF closed 34 loans totaling $22.8 million at year-end. He stated that key goals of the Strategic Plan already have been implemented, including the development of a liquidity model, completing a revamp of CCLF's Technical Assistance Program and an expansion of the fund's efforts in suburban areas.
Angela Dowell, Chief Financial Officer, followed with a review of CCLF's Financial Performance. "CCLF had a tremendous year financially in 2017," Dowell began. She went on to explain that CCLF's most recent audit resulted in an unqualified opinion and a surplus due to an infusion of investment capital at year-end and a recovery on a defaulted loan. Dowell also added that CCLF's balance sheet continues to be very strong while the fund continues to maintain conservative expenses, with 77% of expenses going towards program-related activities. She concluded her presentation by assessing the financial performance against other peer CDFIs, indicating that CCLF's loans outstanding and deployment is performing at or above its peers based on Aeris data for FYE 2017.
Sharing CCLF's current portfolio and projected future growth, Lycrecia Parks, Vice President of Portfolio Management, noted that CCLF strives to continue its mission of being a "gap filler"—providing financing to commercial retail projects, large community facilities and providing financing for 1-4 unit developers to support recovery efforts throughout the Chicagoland area, including suburban geographies. Parks shared that as of first quarter 2018, CCLF had an outstanding principal balance of $61.3 million over 126 loans with a delinquency rate of 1.8%.  Forty-nine percent of the portfolio was in housing sector, 25% in commercial retail development, 21% in community facilities and 5% in social enterprises. Mini-permanent financing comprrised 58% of the portfolio. Parks highlighted the goals for growing the portfolio as part of CCLF's Strategic Plan, including growing commercial retail development from 25% to 33% of the total portfolio.
Maurice Williams, Vice President of Economic Development, updated the audience on CCLF's commercial retail activities. Williams highlighted Chicago TREND, which specializes in strategic retail opportunities by introducing national retailers to low- to moderate-income neighborhoods, and Activate Retail, which is committed to providing quality goods and services to low- to moderate-income communities. Williams concluded by noting the positive effects CCLF's commercial endeavors have left in the communities served, including: the creation of construction and permanent jobs; the reduction of crime; and the sense of unification within the communities.
Calvin L. Holmes summarized the agency's achievements noting population growth, rising home values and a decline in foreclosures in places like Pullman, South Shore and Woodlawn are signs of revitalization. Yet, he emphasized CCLF's work must continue to help alleviate unemployment, crime and lack of business nodes in neighborhoods with shrinking populations.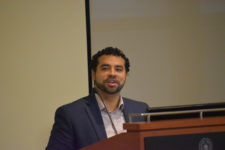 The highlight of the Stakeholders Meeting was a special presentation by Juan Carlos Linares, Executive Director of Latin United Community Housing Association (LUCHA). Illustrating the impact of CCLF's financing of LUCHA's Tierra Linda project on local gentrification, affordable housing for Hurricane Maria displaced families and on sustainability. Tierra Linda is a series of housing developments along the 606 Trail in Chicago where property values and rents have skyrocketed. Tierra Linda's Passive House is introducing rigorous energy efficiency standards in Chicago which will save 75% of utility expenses for residents annually. This is a model project that has already received the attention of local and national developers as a way to achieve environmental justice.  CCLF has worked with LUCHA for nearly 20 years and recently nominated the organization for a 2018 OFN Justice Award, which will be announced this fall. To learn more about LUCHA click here.