The Independence Library and Apartments, located at 3548 W. Irving Park Road, closed due to damage from a fire at the adjacent building in October 2015. Although transient, moving from place to place since the early 1900s, by 2015 the library served seven neighborhood schools within walking distance and was heavily used by area residents.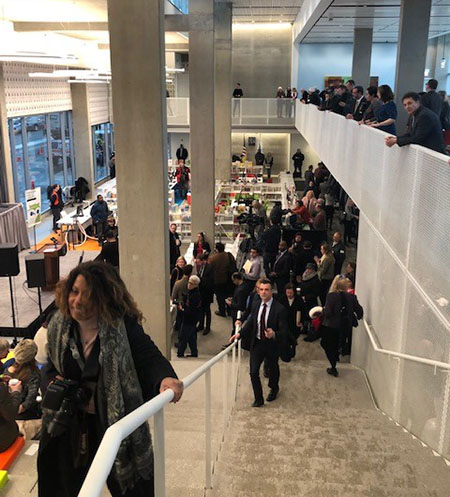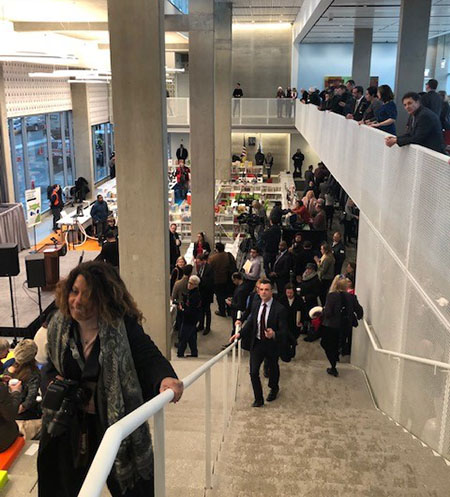 Imagine the community's frustration when two years later Independence Library was scheduled to reopen at the same temporary location on Irving Park Road, ignoring pleas from the community for a permanent home. Igniting the call for a permanent location was the lack of space for area students at the temporary location.
With the dedicated voice of the community behind 45th Ward Alderman John Arena and 39th Ward Alderman Margaret Lorino, and with the support of Mayor Rahm Emanuel, Library Commissioner Brian Bannon, and a host of other public and private leaders committed to the education of youth and families, a new library opened January 22, 2019.
The permanent home for the new Independence Library and Apartments  is 4024 N. Elston Avenue. Chicago Community Loan Fund provided $500,000 in financing for the project, which grabbed the immediate attention of cities across the country because it addresses two major concerns: 1) access to a public library and 2) access to affordable housing for senior citizens.
Building housing on top of a library aligned with the great strides in innovation made by the entire Chicago Public Library (CPL) system. In 2014, CPL was ranked the number-one library in the United States and third in the World by Heinrich Heine University in Dusseldorf, Germany. That same year, CPL won the highest honor a U.S. public library system could receive: the National Medal for Museum and Library Service from the Institute of Museums and Library Services. Chicago opened the first public library within a public high school and won several architectural awards for its Chinatown Branch. Mayor Emanuel predicted the Independence Branch would soon be an award-winning model for other cities to follow as well.
The two-story, 16,000-square-foot library, with an additional two floors of housing providing 44 one- and two-bedroom affordable apartments for Chicago Housing Authority residents, will teach patrons how to use a computer; offer help applying for a job online; provide access to homework assistance in English and Spanish; and teach coding, digital media and much more. Access to free Wi-Fi service, newspapers, audio books and computers are just some of the other benefits of having a state-of-the-art library in your neighborhood. Mayor Emanuel stated, "The only thing you have to know is the location of the library," which will open the doors to learning, opportunity and free resources for families.


The City of Chicago has made $300 million in capital improvement to its 80 branches, opening 12 new facilities and renovating 18 others. The city has opened two other libraries that combine a library with housing. One is located in the Little Italy neighborhood and the other is located in Chicago's West Ridge community, known as the Northtown Library Branch.
CCLF also provided $500,000 in financing for the Northtown Library and Apartments, located at 6800 N. Western Avenue, which held its grand opening on March 5, 2019. The Northtown Branch will feature a glassy, 16,000-square-foot ground-floor library space topped by 44 senior housing units.
Next on the horizon for the CPL system will be the opening of a public library inside the Obama Presidential Center. This will be the first time a public library will be located inside a national presidential center. "Under Mayor Emanuel's leadership, Chicago's innovative new libraries are not only beacons of design excellence but these projects demonstrate how public libraries can also be transformative community anchors," said Barbara Macikas, Executive Director, Public Library Association.
Additional financing for the Independence and Northtown Branch Libraries was provided by City of Chicago, Chicago Housing Authority, Chicago Public Library, CIBC, Fifth Third Bank, TCF Commercial Banking, and LISC Chicago.