Business in Chicago was forging along in the first quarter of 2020. Then the COVID-19 pandemic hit, and Illinois Governor J.B. Pritzker issued a "stay at home" order for the entire state effective March 21, bringing everything to an abrupt new reality.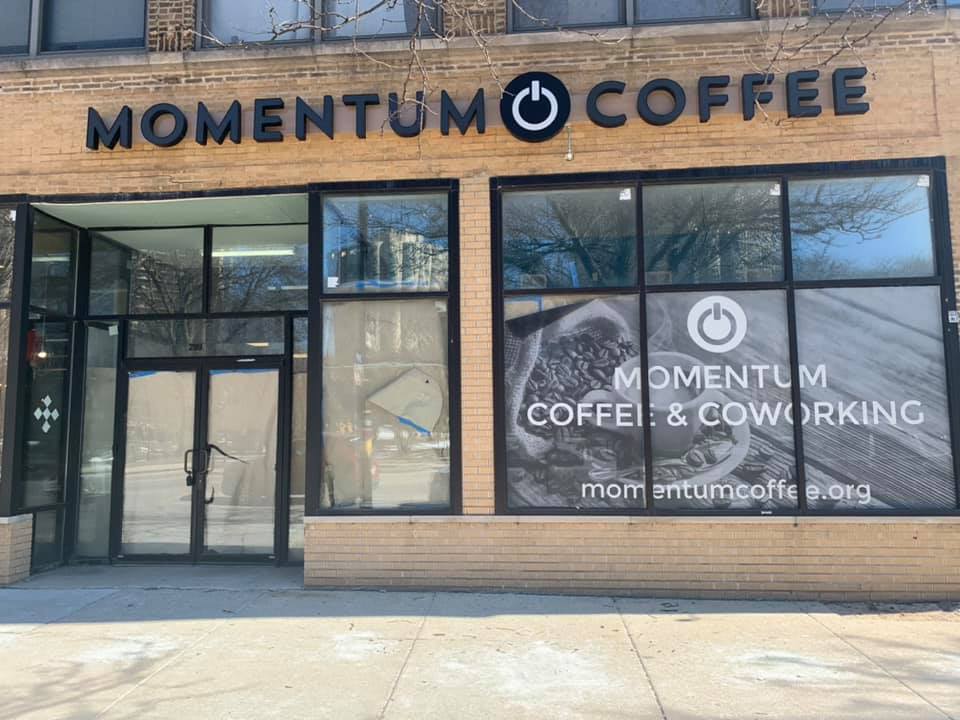 At that time, when attentions turned toward the preservation of public health and safety, Momentum Coffee & Coworking was preparing for its grand opening in Chicago's South Loop neighborhood. "We were all dressed up with no place to go," says Nikki Bravo, Executive Director of Ignite Technology and Innovation.
Momentum Coffee & Coworking is a coffee and coworking (collaborative working) space developed by Ignite Technology and Innovation, a nonprofit organization dedicated to equitable wealth and shared progress through programs and space in underrepresented areas. Momentum Coffee & Coworking furthers this mission by offering its community's entrepreneurs easy access to business technology, resources, mentorships and potential partners.
A reflection of its sister location, Blue Lacuna in the Pilsen neighborhood, Momentum serves coffees from premium, sustainable partner Dark Matter Coffee and is a start-up business incubator, bringing open coworking space, privacy rooms, conference rooms and an event space for classes and workshops to the South Loop. Members have access to professional-quality business equipment, high-speed Internet, a podcast studio and most importantly, ideas, resources and experiences of like-minded innovators.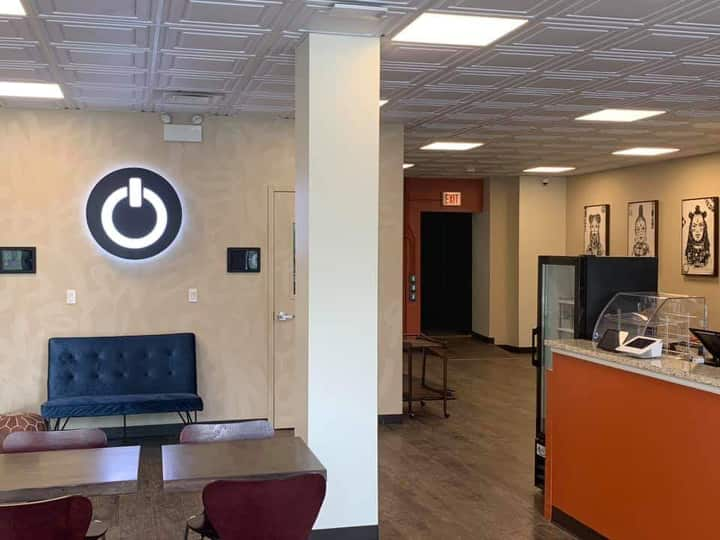 Momentum offers start-up businesses and entrepreneurs access to private meeting rooms, high-speed Internet service, professional office equipment, and an event space for workshops and classes.
"People go to coffee houses and they're there all day," Bravo explains, "but that's not the purpose of those spaces. The point of coworking is to allow people space. We know for start-ups and small businesses going into long-term leases or contracts can be daunting and can stop them from even starting. We said we wanted to lead with coffee and it's synonymous with coworking, so we said we'd like to do both."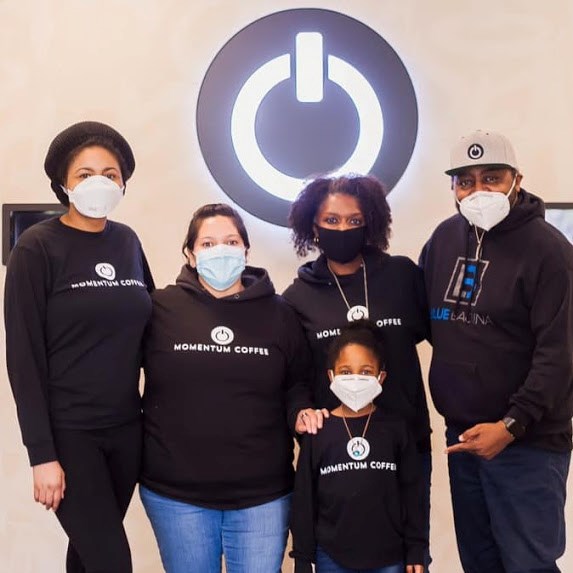 Momentum offers more than coffee and chairs. It demonstrates its purpose to "create a community of small businesses and entrepreneurs that experience equitable wealth and shared prosperity. We're focused on education, information and trying to level the playing field," Bravo explains. "It's really important at this time to demonstrate what it is we want others to do. It's not easy, but seeing that things can be done can change the game."
CCLF financed Ignite Technology and Innovation with a $155,000 construction/mini-permanent loan for the development of Momentum. "I was aware of CCLF, and we were connected through Chicago TREND and [Chicago TREND Co-founder and CEO] Lyneir Richardson," Bravo recalls. "Our experience with CCLF has been very good. Their interest in retail development is very supportive. We had another location [for Momentum] at first but that fell through. They were so encouraging! I always felt they were working to get it done. There might have been a few things along the way that needed adjusting or attention, but I always felt that CCLF had our back, that they want these types of projects to be done."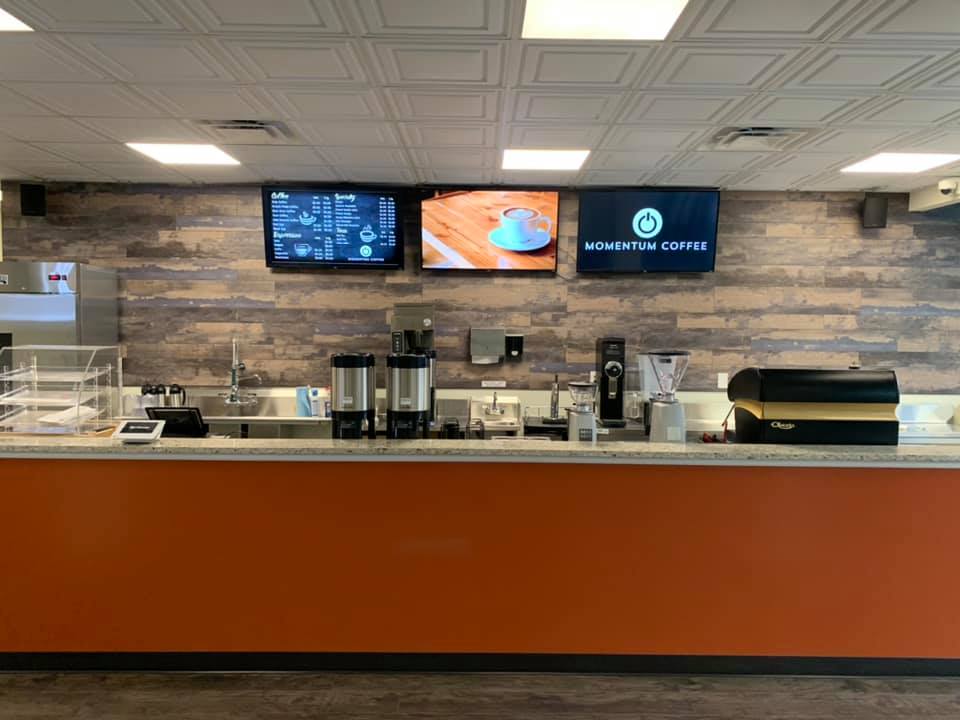 Momentum specifically chose Dark Matter Coffee since sustainability and fair business practices are very important to both organizations.
May 4, 2020, saw the official grand opening of Momentum, right at the peak of the COVID-19 crisis in Illinois. "A silver lining from COVID was the slow start, which really helped us to perfect our product and our space," Bravo recalls. "We opened with mobile orders and carry-outs then moved to walk-up orders as the city and state moved through the safety phases."
"We're also doing some fun things. We're working with a Black-owned business that provides our pastries…cupcakes, lemon bars, muffins…people rave about them. We also have a digital board that will become our community board and will feature events, business resources, promotion of our vendors and promoting South Loop businesses that have, in turn, supported us. We are demonstrating what it is we're here to do—to lift up some of these organizations and businesses. We are also providing an opportunity for people to participate in our success."