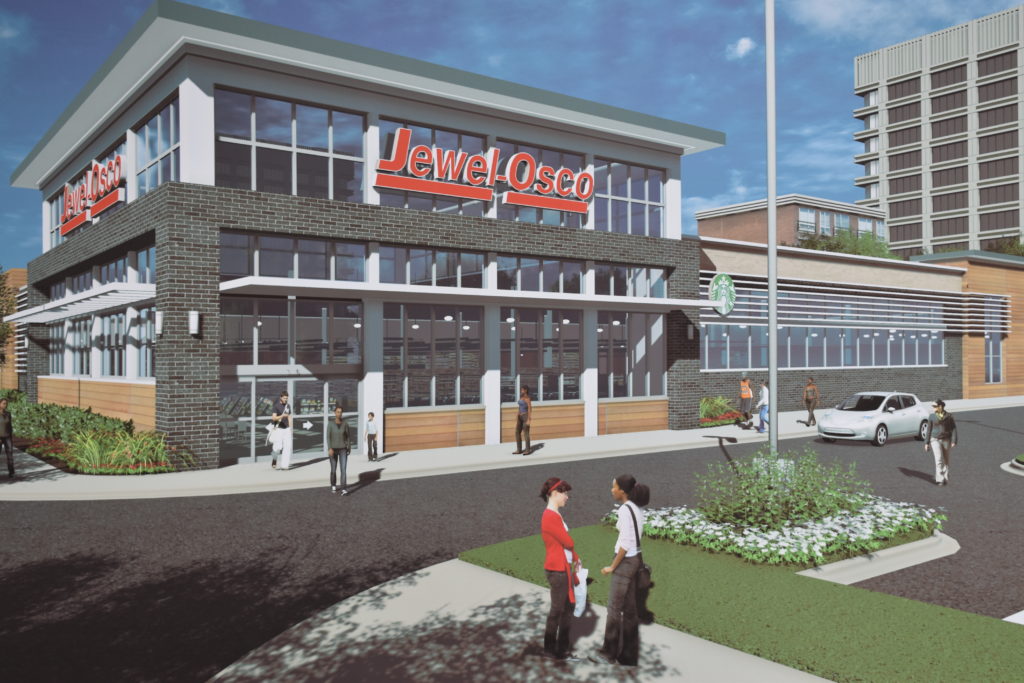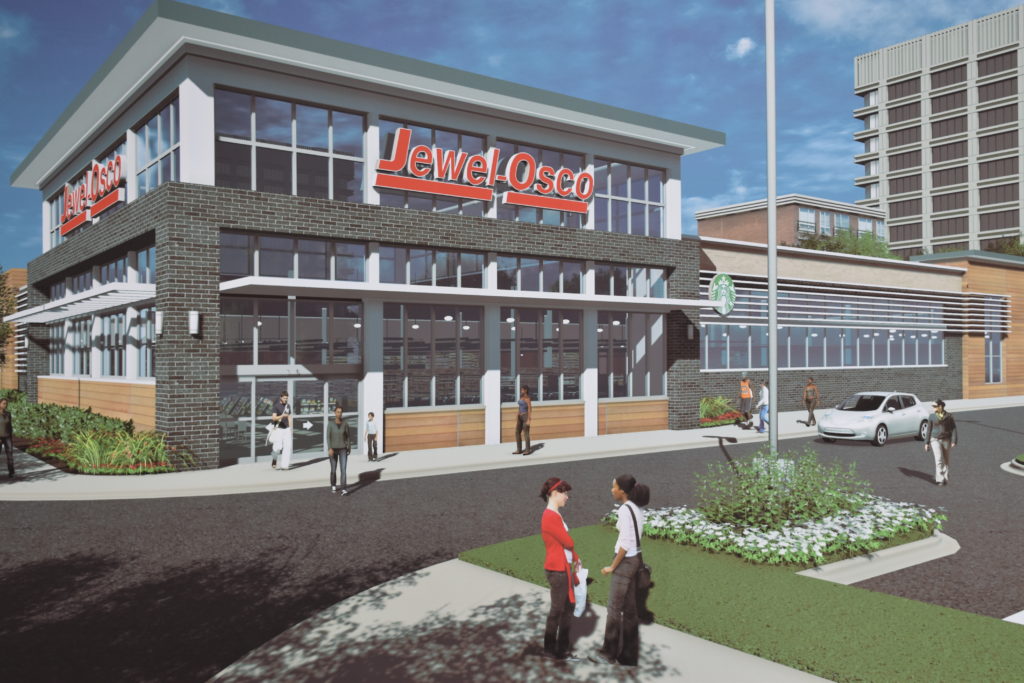 Rendering of the 48,000 sq. ft. Jewel-Osco that will open in early 2019, offering an estimated 200 jobs in the Woodlawn community.
Leon Walker, Managing Partner of DL3 Realty, LLC, is once again developing vacant land to bring a full-service grocery store to a food desert — this time in Woodlawn. Walker is the developer of Englewood Square, a commercial real estate development that now has a Whole Foods, Chipotle and Starbucks as retail tenants. The Englewood Square project is offering fresh fruit and vegetables and much more to residents of Englewood, while also providing 200 jobs. As a part of the revitalization efforts spearheaded by Preservation of Affordable Housing (POAH), on March 7, 2018, DL3 Realty and partner Terraco broke ground on the 48,000 square foot Jewel-Osco store that will be located at 61st Street and Cottage Grove Avenue in the Woodlawn community of Chicago. The store will offer a drive-through pharmacy, a deli counter and full-service groceries for shoppers.
DL3 Realty is a commercial real estate company with a mission to develop projects that help improve and sustain neighborhood life in Chicago's urban communities. The company works with community development corporations, local non-profit organizations, and governmental entities to bring high-impact retail, institutional and professional office projects to Chicago's urban communities. CCLF provided DL3 Realty with an $850,000 predevelopment loan for the Jewel-Osco in Woodlawn. Fifth Third Bank was the principal lender for this project.
POAH sold the land to DL3 Realty as a part of their $30 million investment in Woodlawn. Aaron Gorstein, CEO of POAH stated, "There is incredible development going on in recent years, with commercial businesses opening up and new development of mixed-use housing." POAH has been able to leverage $400 million in education, housing and infrastructure.
It has been 47 years since the last full-service grocery store closed its doors in Woodlawn. Longtime resident and Grove Parc Tenant's Association President, Molly Davis, emotionally described what this development meant to her: "I have been a resident of Woodlawn since 6th grade and have raised both of my children here. I feel it [the change] and we need it! I see nothing ahead of us but blue skies and economic development."
Mayor Emanuel congratulated POAH and Walker on the ground breaking and referenced the steady commitment of the Woodlawn residents: "People in Woodlawn never gave in, never gave up and always saw the promise, and I congratulate you. Kids in Woodlawn will see a grocery store and say, 'there goes my neighborhood.' We are building greatness." He also acknowledged the strong support received by Senator Dick Durbin as a key ally in bringing this development to fruition.
Walker has helped bring grocery stores with fresh fruit and vegetables and meats to families, so their kids can have a healthy start in life. He also brought together a strong team of African American businesses that are all contributing to Woodlawn's revitalization, including Powers & Sons, serving as the general contractor for the project. This project adds to the comprehensive development invigorated by the Obama Presidential Center and will create 200 full- and part-time jobs for local residents when it opens in 2019.