A spectacular September afternoon served as the perfect backdrop for a ribbon-cutting ceremony and community celebration as the Latin United Community Housing Association (LUCHA) unveiled the first Passive House affordable housing unit in its Tierra Linda project.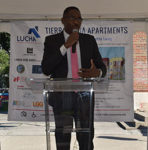 Calvin L. Holmes, President, explained CCLF's support for the project during the ribbon cutting September 27, 2018.
LUCHA's Tierra Linda project is a series of housing developments along the 606 Trail in Chicago where property values and rents have escalated, often forcing out long-time area residents. Focused on battling local gentrification, providing affordable housing for displaced families, and creating a sustainable environment, Tierra Linda is situated in the Humboldt Park and Logan Square communities of Chicago. The 45-unit scattered site properties provide
one-, two-, and three–bedroom options accessible to households making less than 50% of the median income for the area.
The September 27, 2018, ceremonies highlighting the first multi-family Passive House in Illinois began with a VIP Reception and Press Conference attended by representatives from Mayor Rahm Emanuel's office, 26th Ward Alderman Roberto Maldonado, 1st Ward Alderman Joe Moreno, and 35th Ward Alderman Carlos Ramirez-Rosa. CCLF team members and Calvin L. Holmes, President, joined additional supporters of the project, including representatives from ComEd, IFF, Enterprise Community Partners, and US Bank. CCLF has worked with LUCHA for nearly 20 years. "LUCHA has been at the forefront of housing and human rights, especially serving as an advocate for Latinos in Chicago," Holmes told the audience.
Following a lively ribbon-cutting ceremony, guests were invited to tour Tierra Linda to further explore the sustainable construction, ask questions, and enjoy food, activities, and local vendors. "Tierra Linda is a solution to rising rents for Humboldt Park residents," CCLF's Holmes told the audience. "The project embodies many of CCLF's core principles: green/sustainable buildings, affordable housing, and helping to find ways to keep legacy residents in place."