On a frosty day in February, the Village of Maywood was the site of renewal as local dignitaries, investors, developers and area residents gathered for a "Start of Construction" celebration of the forthcoming Fifth Avenue Apartments. Hosted by developer Interfaith Housing Development Corporation (IHDC), the event lauded the transformation of a long-vacant lot located at 800 S. Fifth Avenue into the future site of a five-story mixed-use residential and commercial building.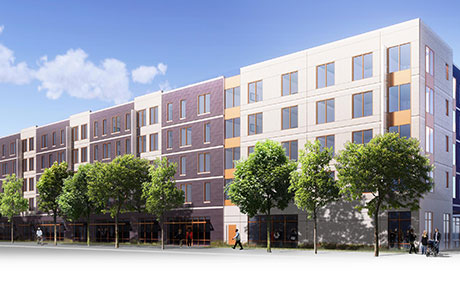 Among those in attendance at the packed event were Perry Vietti, President of IHDC, Village of Maywood Mayor Edwenna Perkins, Village of Maywood Board of Trustees, Cook County Board President Toni Preckwinkle, CCLF Board Member Stephanie S. Green, and CCLF President Calvin L. Holmes.
"This facility will provide 72 units of affordable housing, including units set aside for homeless veterans," Cook County Board President Preckwinkle told the crowd. "Investment in affordable housing is critical to building vital communities throughout Cook County. Housing is a human right."
Maywood, located approximately 11 miles west of downtown Chicago, was once home to local and national notaries, including aviator Charles Lindbergh, civil rights activist Fred Hampton and BET Television Network co-founder Sheila Crump Johnson. Economic declines and population shifts, particularly in the mid-1970s, led Maywood towards instability. Recently, however, a resurgence is taking place to reestablish the community; the entire village has been designated an Enterprise Zone by the State of Illinois, a program designed to stimulate economic growth through tax incentives.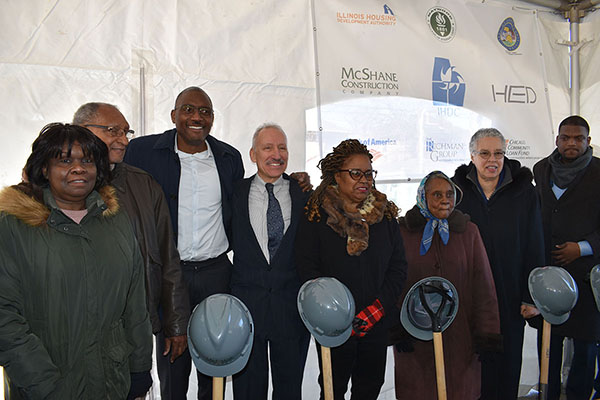 Fifth Avenue Apartments, designed by architect Harley Ellis Devereaux, will be a five-story affordable housing development consisting of one-, two- and three-bedroom units. The development will provide housing for families at or below 60 percent of the area median income (AMI). Sixteen of the units are designated for households at or below 30% AMI. Nineteen of the units will be targeted to special needs populations including eight units set aside for homeless veterans.
"This development has been specifically designed to serve working families and individuals and some special needs populations," said Perry Vietti, President of IHDC. "Slated for opening in early 2021, we could not be more thrilled to now have this important community resource coming out of the ground."
Building amenities will include two elevators, central laundry, a meeting room, parking spaces and a recreation area. Designed to achieve National Green Building Standard's Bronze Level, the property will include a high-performance HVAC system, efficient insulation and LED lighting. The site will also offer approximately 5,500 square feet of retail space currently slated for development into a grocery store. McShane Construction is the project's contractor.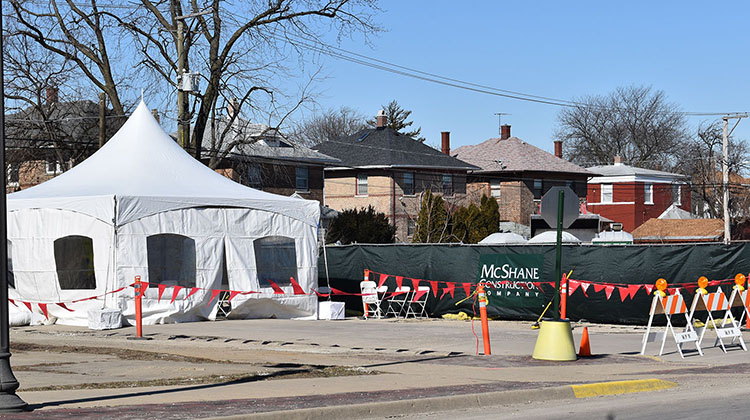 CCLF provided $700,000 in predevelopment funding to IHDC for the Fifth Avenue Apartments project, which is IHDC's 18th affordable housing development.
"[The pre-development funding provided by CCLF] does not often get acknowledged but it's that risky work up front … and we appreciate that," Vietti said while acknowledging CCLF during the ceremony.
Additional funders include: Illinois Housing Development Authority; Cook County Bureau of Economic Development; Bank of America; The Richman Group Affordable Housing Corporation; and ComEd Energy Efficiency Program.