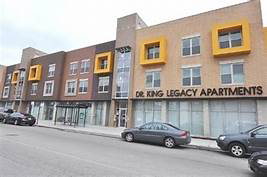 In 1966, at the height of the Civil Rights Movement, Rev. Dr. Martin Luther King, Jr. turned his attention toward Northern cities to expose the social injustices presumed to only exist in the South. His focus settled on Chicago.
Bringing the movement to Chicago, Dr. King and his family relocated into an apartment on Chicago's West Side, located at 1550 South Hamlin Avenue in the North Lawndale neighborhood, to expose the city's separate and unequal living conditions. Dr. King engaged in the community and interacted with his new neighbors to better understand the conditions of Chicago's urban slums.
The apartment building was torn down, a result of the riots following Dr. King's assassination and the neighborhood's continued poverty and disinvestment. Recognizing the history and potential of the location, Lawndale Christian Development Corporation (LCDC) a, not-for-profit community development organization, revitalized the site to become the Martin Luther King Legacy Apartments.
The MLK Legacy Apartments provides housing for 45 low income families and seeks to support existing businesses, nurture commercial development and promote job creation. The complex is an affordable housing, mixed-use development featuring an on-site fitness room, outside green space, hard wire capability for internet access and 48 parking spaces located behind the building.
CCLF provided the LCDC an $85,000 predevelopment loan for the MLK Legacy Apartments. CCLF's loan came after an initial predevelopment loan of $350,000 from LISC Chicago.
As part of its Black History Month series, NBC-5 Chicago aired a segment, hosted by LeAnn Trotter, reflecting on the history of the property, offering a tour of the building and assessing future goals for the community.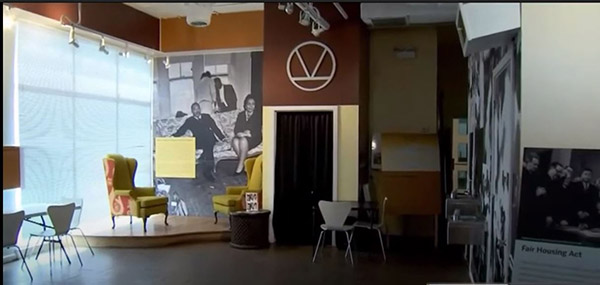 "We said we wanted to build a building Dr. King would have been proud to live in," stated Richard Townsell, Executive Director of LCDC.
The MLK Legacy Apartments also includes 4,500 square feet of leasable retail space, available to bring goods and services to the Lawndale community area. Goals for the site also include a job training center, a new public library, a park shared with Penn Elementary school, a memorial to Martin Luther King, Jr., and the MLK Fair Housing Museum.
Click here to watch the segment from NBC-5 Chicago.