Emma's House celebrated with a ribbon-cutting ceremony on September 28, 2019, announcing the opening of a new resource for women suffering from drug and alcohol abuse in the Austin community of Chicago. Named after Alderman Emma Smith, a staunch supporter of Emma's House, the facility is a three-story mansion with 7 bedrooms and 5 baths that will provide housing and counseling and other services such as job placement to 19 clients at a time. The women are eligible to stay at Emma's House for up to 24 months while they are in treatment.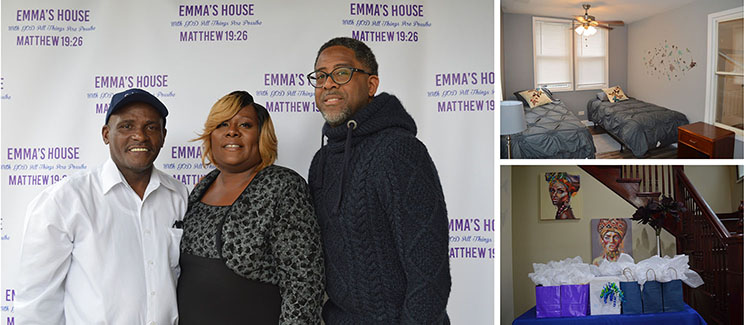 The force behind Emma's House is a very humble couple that has worked to develop affordable housing in low-income communities for the past 25 years. Kenneth and Samantha Bates have developed 30 homes through their agency, Road to Righteousness Foundation. Emma's House is their first recovery home.
Mr. Bates is a licensed general contractor with over 20 years experience in industrial/commercial construction. Mrs. Bates has 20 years of experience providing daycare and working with families from the Austin community. "I know the problems this community is facing, and I have seen how the opioid crisis is affecting my community, and I wanted to do something about it," Mrs. Bates stated. In fact, the Illinois Department of Public Health (IDPH) reported opioid overdoses have killed nearly 11,000 people in Illinois since 2008. Just last year, nearly 2,000 people died of overdoses—almost twice the number of fatal car accidents. At the current rate, the opioid epidemic will claim the lives of more than 2,700 Illinoisans in 2020. IDPH states, "The opioid epidemic is the most significant public health and public safety crisis facing Illinois."
Mrs. Bates will manage the day-to-day operations of Emma's House, working with a number of substance abuse agencies through linkage agreements. The Bates' goal is to provide women with addictions a chance to live clean and sober lives. This is done by offering a transitional living program for those who desire comprehensive recovery support after first seeking treatment for drugs, alcohol and substance abuse at one of their partner agencies.
Chicago Community Loan Fund provided a $165,000 loan for Emma's House. Mr. and Mrs. Bates had a long-term vision to open a recovery home in the Austin community, and they did an exceptional job creating such a warm and inviting home for the future residents of Emma's House.