Within a span of a few short weeks, CCLF borrower XS Tennis & Education Foundation was a flurry of activity, first hosting a World Team Tennis match on Chicago's South Side then, a few days later, welcoming Illinois Senator Dick Durbin with a private tour of the facility.  XS Tennis is a CDFI Fund-supported project.  CCLF is a certified by the CDFI Fund to lend responsibly in low-income areas.
Founded by Kamau Murray, XS Tennis is the largest tennis facility serving African American youth in the country. Located in the Washington Park neighborhood, the facility includes 24 full-size indoor and outdoor tennis courts, indoor and outdoor basketball courts, a 150-meter track, and 7 multipurpose rooms. CCLF was one of the earliest supporters of XS Tennis, providing $1,300,000 in financing, a $765,000 letter of credit, and $700,000 in bridge financing. Currently, the sports facility serves 3,000 students of various skill levels per year. The students hail from diverse communities within the Chicagoland area.
On July 27, 2018, XS Tennis welcomed sports enthusiasts to the South Side for World Team Tennis, a benefit event that showcased some of the best players in professional tennis and for the first time brought a national professional tennis match to Chicago's South Side. Inspired by the innovative team format co-founded by tennis legend Billie Jean King in the 1970s, the match featured two teams: the Philadelphia Freedoms (comprised of Raquel Atawo, Kevin King, Fabrice Martin, Sloane Stephens, Taylor Townsend—who both have trained with XS Tennis' founder Kamau Murray—and Coach Craig Kardon) and the Washington Kastles (featuring Madison Brengle, Robert Lindstedt, Nicole Melichar, Tennys Sandgren, and Coach Murphy Jensen).
The teams played five sets—one set each of men's and women's singles, men's and women's doubles, and mixed doubles—to a sold-out crowd that included Chicago Mayor Rahm Emanuel, Chicago businessman John Rogers, tennis champion and XS Tennis Advisory Board member Billie Jean King, and officials from the World Tennis Association. After rounds of spirited play that engaged and captivated attendees to cheers and ovations, the Philadelphia Freedoms emerged victorious, defeating the Washington Kastles by a score of 23 points to 18.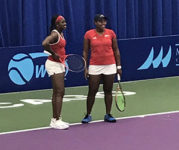 Only a few days later, on August 8, 2018, the Washington Park neighborhood was again center stage when XS Tennis welcomed Illinois Senator Dick Durbin for a private tour of the facility to meet young players and their instructors, and to greet supporting investors of XS Tennis. Senator Durbin sits on the Senate Judiciary, Appropriations, and Rules Committees. He was particularly interested in seeing how CDFI Fund supported agencies were creating transformation in Illinois.
CCLF's President Calvin L. Holmes, Lycrecia Parks, Vice President of Portfolio Management, Juan Calixto, Vice President of External Communications, and Academy Group Intern Mia Kelley joined representatives from fellow XS Tennis funder PNC Bank and other CDFI Fund grantees–IFF, National Community Investment Fund, and Urban Partnership Bank–for the tour.
Renell Perry, XS Tennis Business Manager, led Senator Durbin on an intimate tour of the facility, noting the positive inspiration, guidance, and world class programming XS Tennis has brought to the community. During the tour, Senator Durbin stopped to greet young tennis players and offer words of encouragement.
Finally, the CDFI partners and PNC Bank thanked the Senator for his support of the CDFI Fund. "I speak for all of us," CCLF President Calvin L. Holmes told the Senator, "we really cherish your long-term support of the CDFI Fund. We hope you continue to advocate for community areas that are economically distressed in Illinois."