Why Invest in CCLF?
By investing with CCLF, you share tangibly in financing positive change in low- and moderate-income communities across the six counties of metropolitan Chicago. CCLF prudently manages your investment while underwriting community projects in affordable and supportive housing, social services, social enterprises and economic development projects that provide employment opportunities and goods and services for neighborhood residents.
How it Works
Investors who want to make a positive social impact accept a below-market return—typically 0 to 2.5 percent—in exchange for a social dividend. The spread between the below-market rate and what CCLF earns on our community investments helps to offset operating costs. Investment terms range from one to 15 years, and interest is typically paid semi-annually.
Financials
Our investors include banks and corporations, foundations, religious institutions, public sector agencies and individuals. Investments range from a minimum of $1,500 to $8 million or more, yet nearly half of CCLF's investors are individuals and families who want part of their investment portfolio to help create communities where people thrive. All investments—small and large—are vital to continue our work.
Please contact us if you have any questions about our financial statements featured below.
Investment Management
Although investments are uninsured and carry no guarantees, CCLF manages its investors' capital according to stringent guidelines established by the Opportunity Finance Network, the leading network of community development financial institutions. Security is provided by the pooled risk that a fund provides, loan loss reserves, permanent equity and subordinated debt investments.
CCLF is a federally certified community development financial institution (CDFI) and since 2006 has been rated by AERIS™, the CDFI Assessment and Rating System, a comprehensive, third-party analysis that provides guidance to investors and donors.
CCLF is audited annually by an independent public accounting firm and has consistently received an unqualified opinion. As a recipient of federal funds, CCLF has also received an A-133 audit with no exceptions noted.
If you have more questions regarding the investment process, please contact our Chief Financial Officer.
Top 2018 CCLF Investors: $3 million-plus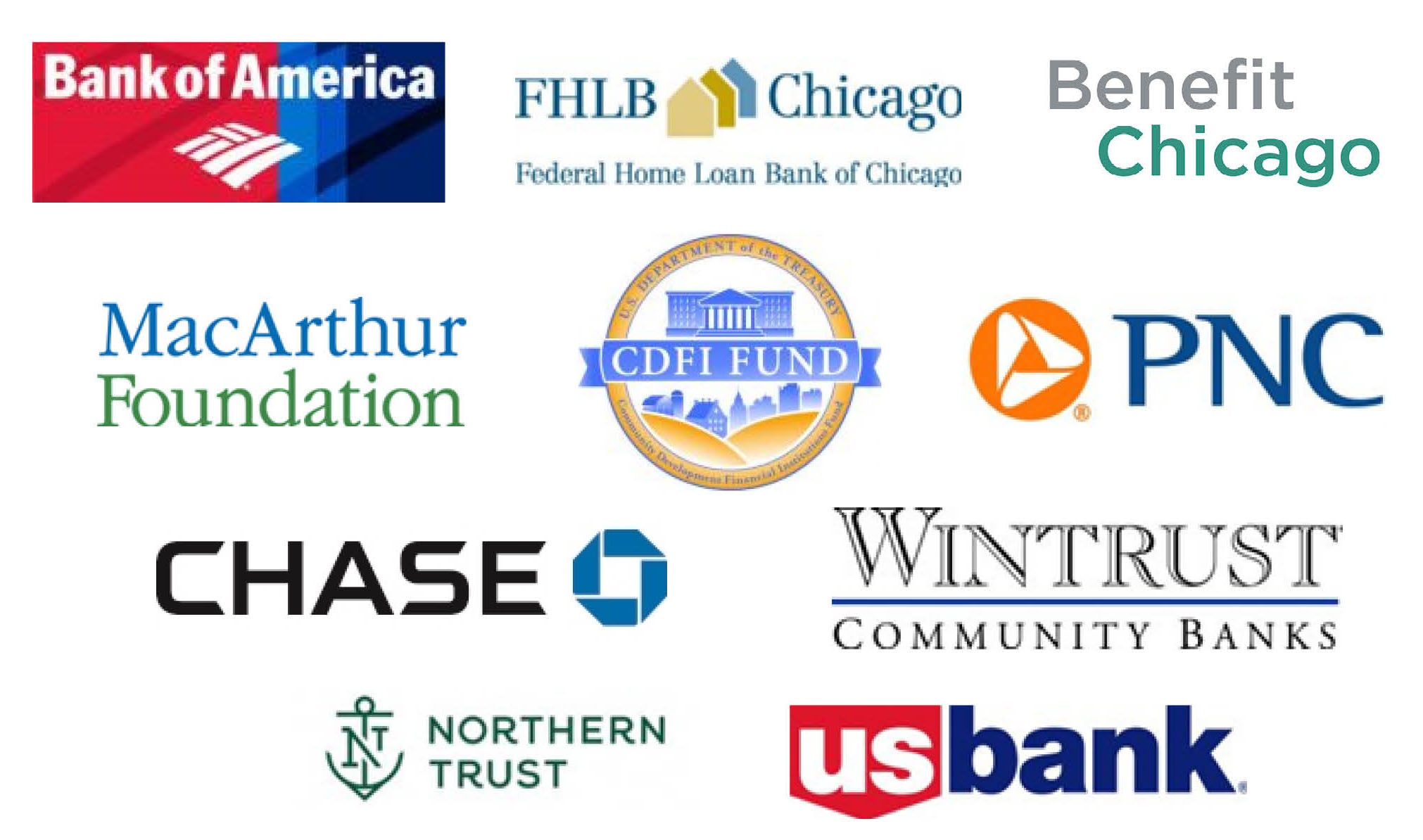 Special thanks to our additional investors:
BMO Harris Bank, CIBC Bank, USA, First Midwest Bank, MB Financial Bank, Rush University Medical Center, Trinity Health Corporation, Capital One, First Savings Bank of Hegewisch, State Farm, West Side United, Ann & Robert H. Lurie Children's Hospital of Chicago, Catholic Health Initiatives, CNote, Congregation of the Sisters of Charity, Devon Bank, First Eagle Bank, Marquette Bank, Opportunity Finance Network, Raila & Associates, P.C., Wieboldt Foundation, Woodforest National Bank, Amalgamated Bank, Congregation of Sisters of St. Agnes, Jessie Smith Noyes Foundation, Inc., New Visions Foundation, Our Lady of Victory Missionary Sisters, School Sisters of St. Francis, Sinsinawa Dominican Sisters, Sisters of Charity of St. Elizabeth, Sisters of St. Dominic, The Passionists of Holy Cross Province.
Special thanks to our individual investors:
1993 Board of Directors, Donna Altschuler, Anonymous, Peter & Lucy Ascoli, Kay Berkson, Joan Berry, Sheila Brady, Chris & Korie Campbell-Stanley, Clients of the Sustainability Group, Phillip Dale Dean, Henry A. Dwyer & Helen Murray, Kristin Faust, Steven & Geneva Feuerstein, Irene D. Ginger, Kristen Marie Ginger, Grant T. Sunderland Revocable Trust, Darryl & Jamie Hales, Jonathan & Connie Heller, Greg Jeffries, Karuna Trust, Emanuella Kenny, Suzanne La Fetra, Sara Jo Light, Susan Lloyd, Marsha Lynne Love, Marian H. Rose Trust, Mary H. Waite Trust, Richard D. & Phyllis E. Tholin Trust, Allison Rozga, Lincoln Stannard, Kathryn Tholin, Marisa Whitesell.