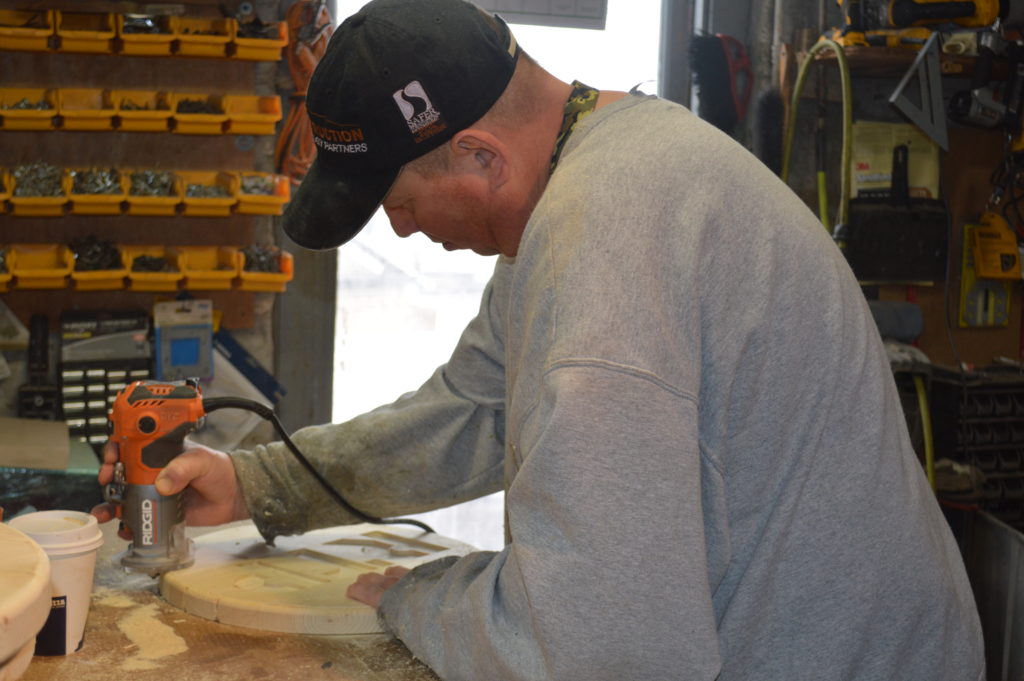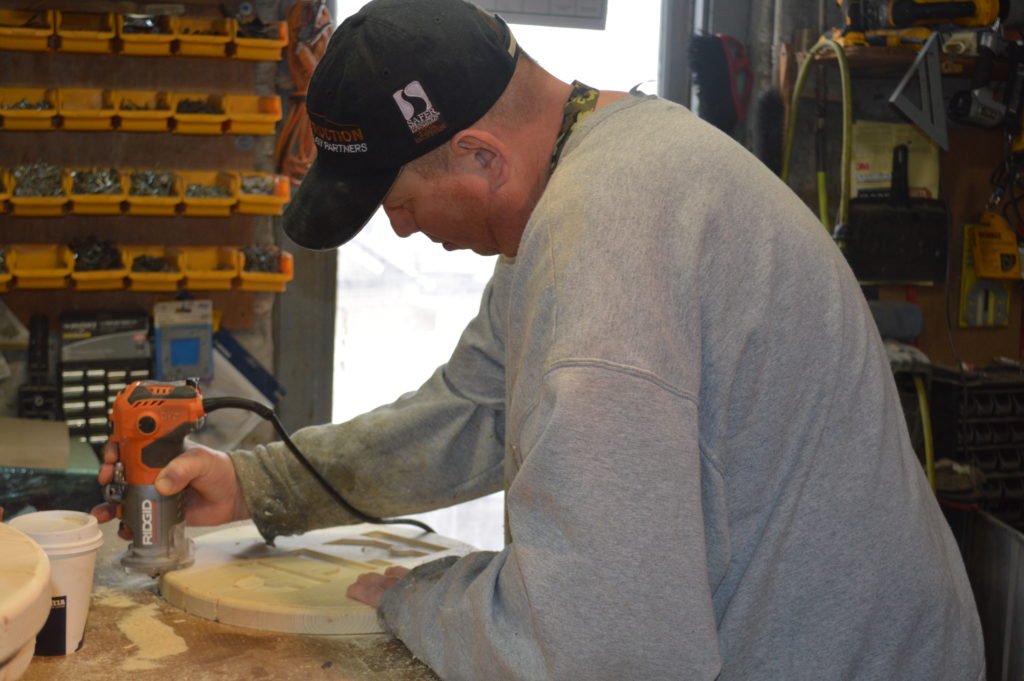 Gary Lay, one of the Chicago Neighborhood Rebuild Pilot Training Program participants, working on a stool to add to the break room his team is creating for Reconstruction Technology Partners. 
Inside an old gymnasium on Chicago's West Side sits a two-story model home built by a group of men and women learning carpentry and other construction trades. They are being trained by Safer Foundation, one of the nation's largest not-for-profit providers of services designed exclusively for people with criminal records. CCLF has partnered with Safer Foundation to provide workforce services for the Chicago Neighborhood Rebuild Pilot Training Program. This program is implemented in collaboration with the city of Chicago and its aim is to rehabilitate 50 homes in three high-crime areas of the city while providing job-training opportunities to youth and ex-offenders.
Reconstruction Technology Partners (RTP) is a social enterprise subsidiary of Safer Foundation. This enterprise works to certify participants so they can qualify for a variety of jobs, from handyman/handywoman to union carpenters building houses. RTP has already identified five participants for the program and is helping them overcome barriers to employment by providing classroom training, hands-on skills training and other support services based on their learning styles and prior educational experiences. These participants have completed their coursework in woodshop and are currently training in carpentry, building an indoor two-story house inside the gymnasium.
Brian K. Ellison is the Director of the Woodshop program and has shared some of his ten years of experience with the participants. Under his leadership, they have designed and constructed wooden clocks and cell phone holders, as well as created a break room with wooden stools, table and a creative back splash that is now a permanent resource for RTP. RTP is able to sell the wooden products produced by the participants at a cost below the market rate, creating demand for more production. Once they are certified, RTP works to place the participants at job training sites and eventually with a permanent employer.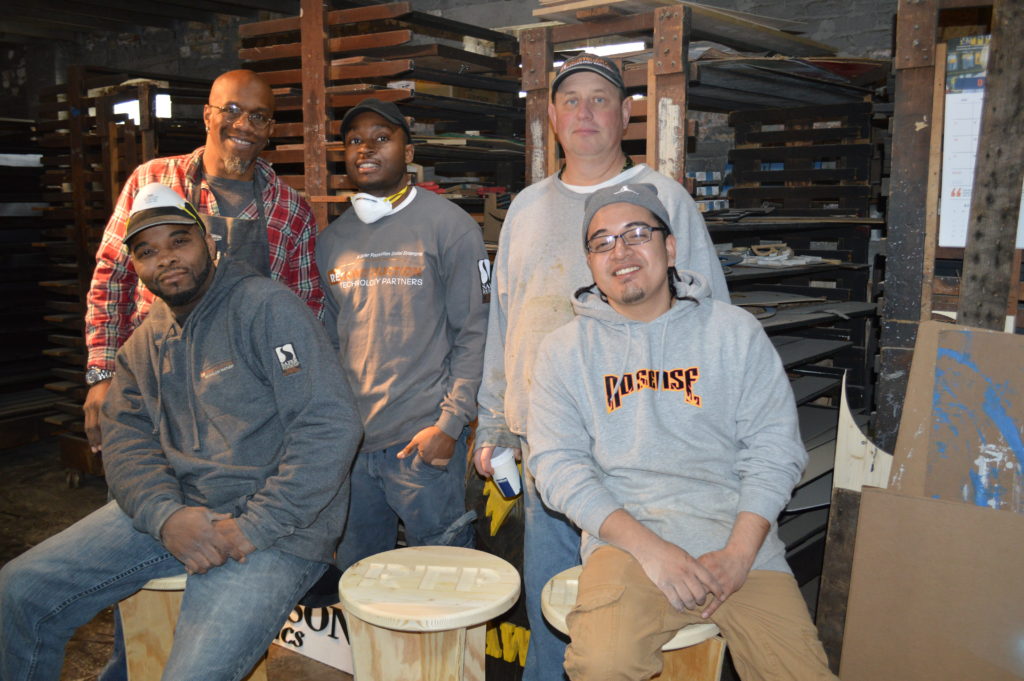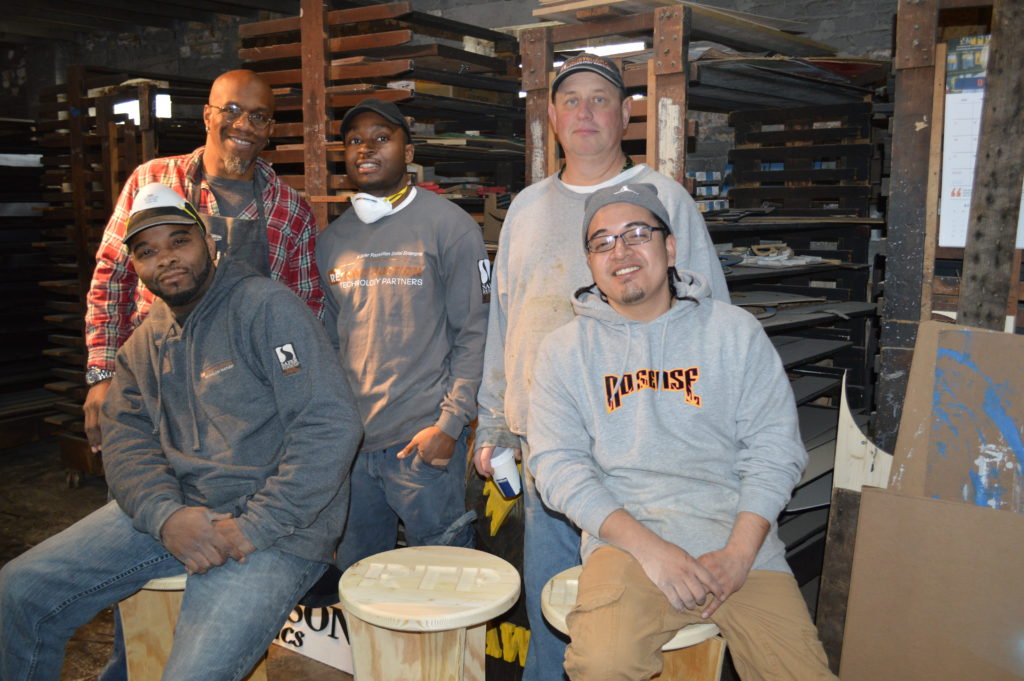 Job training candidates David Gray, Brian K. Ellison, Director of Woodshop, Derrick Gunarh, Gary Lay and Miguel Antonino test the stools they have just created for Reconstruction Technology Partners.
The program provides great motivation for participants. Miguel Antonino, who is new to the program, stated that he wants to keep going to school after certification to study robotic engineering. The participants enjoy working with Brian and with their peers because they laugh together and have become friends. Antonino is looking forward to the carpentry training. The house they are currently building is a living lab for the participants, and will be subsequently deconstructed as part of the learning process.
CCLF has also contracted with CARA to identify and provide workforce services to youth and ex-offenders. CCLF is working with developers to identify vacant properties in need of rehabilitation, which would become affordable home ownership opportunities for residents in the targeted communities. The Chicago Neighborhood Rebuild Pilot Training Program is funded by Rush University Hospital, MB Financial Bank, the City of Chicago, Fifth Third Bank and PayPal Gives.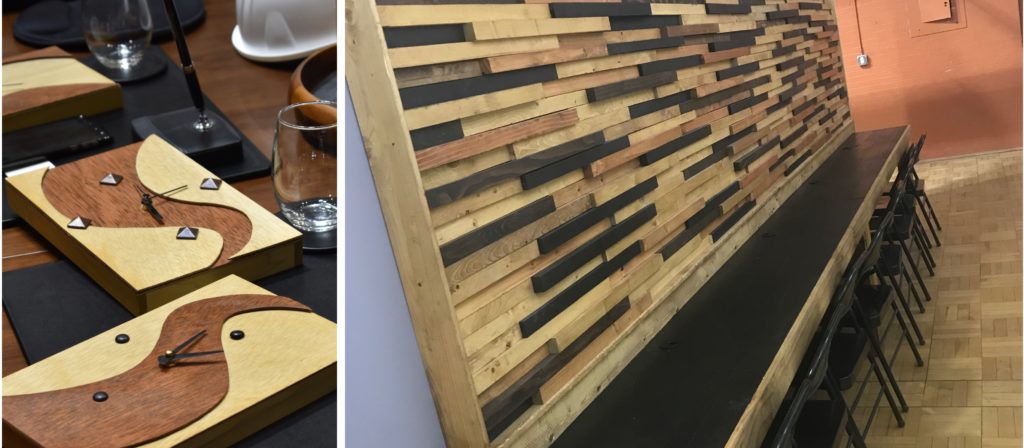 Wooden clocks and break room table and stools designed and created by Chicago Neighborhood Rebuild Pilot Training Program participants.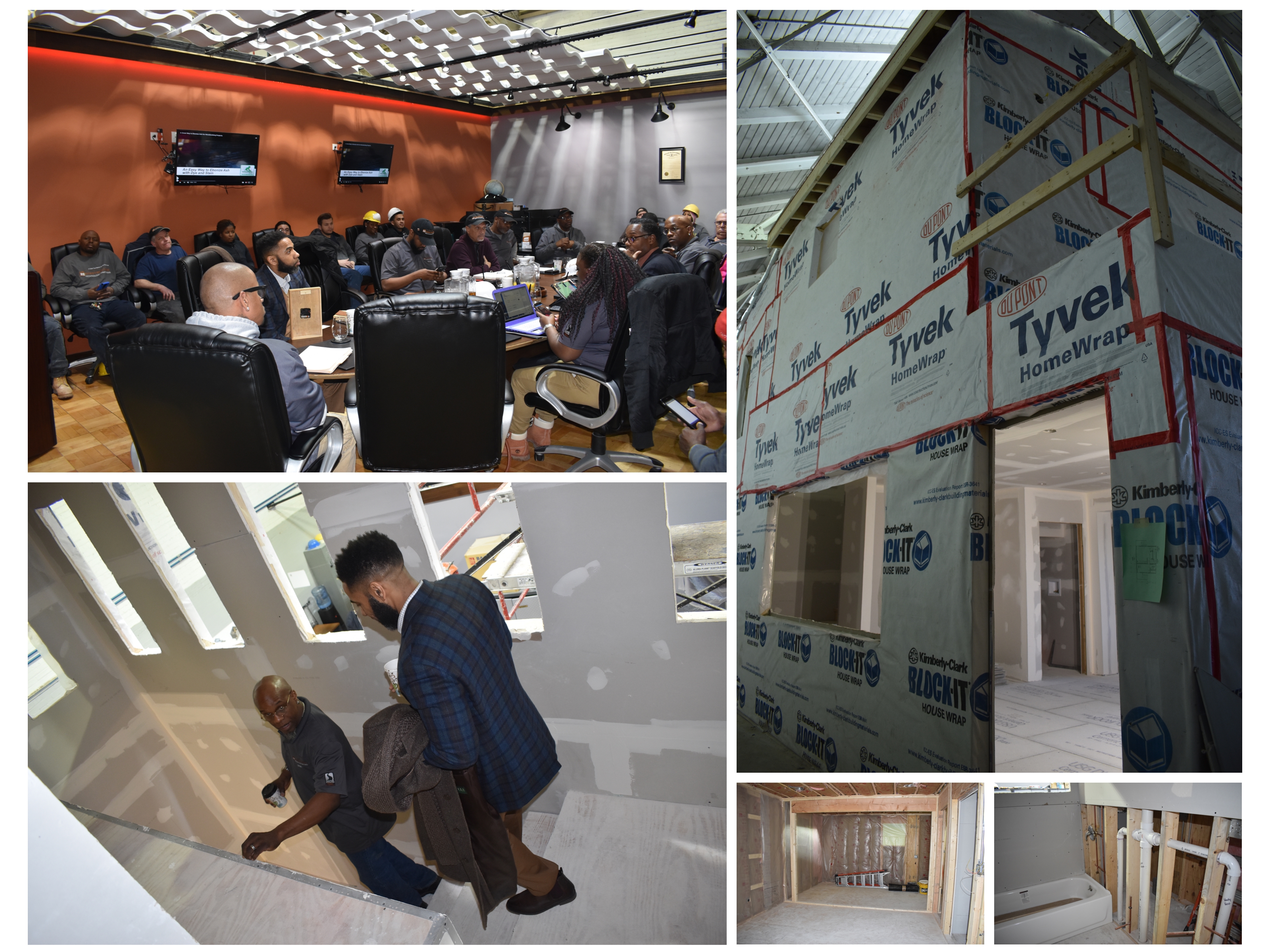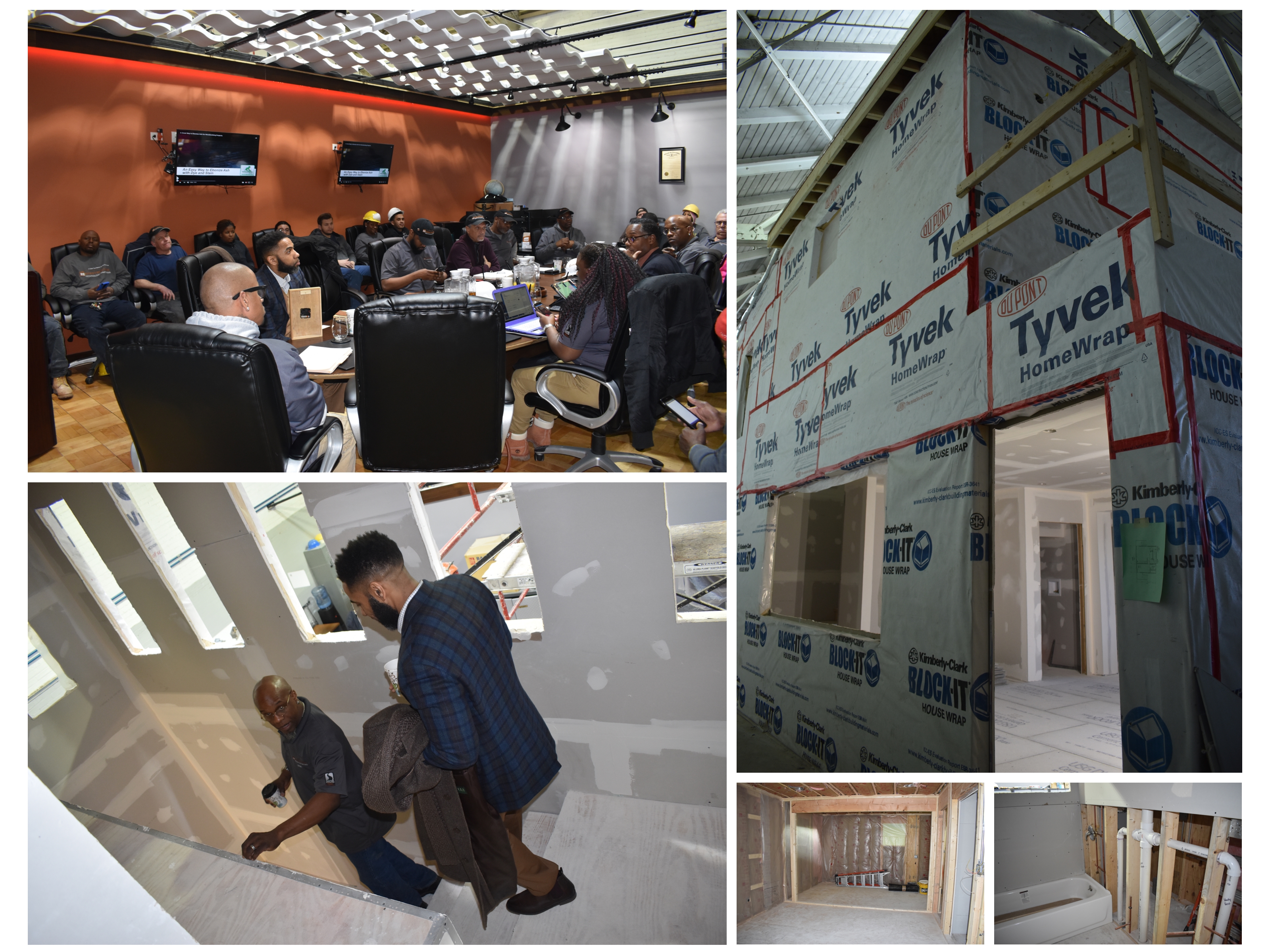 Job training participants at Reconstruction Technology Partners attending a meeting right next to a two-story home being built by participants inside a former gymnasium. Instructor, Brian K. Ellison, tours Sean Harden, CCLF Consultant, through the model home.