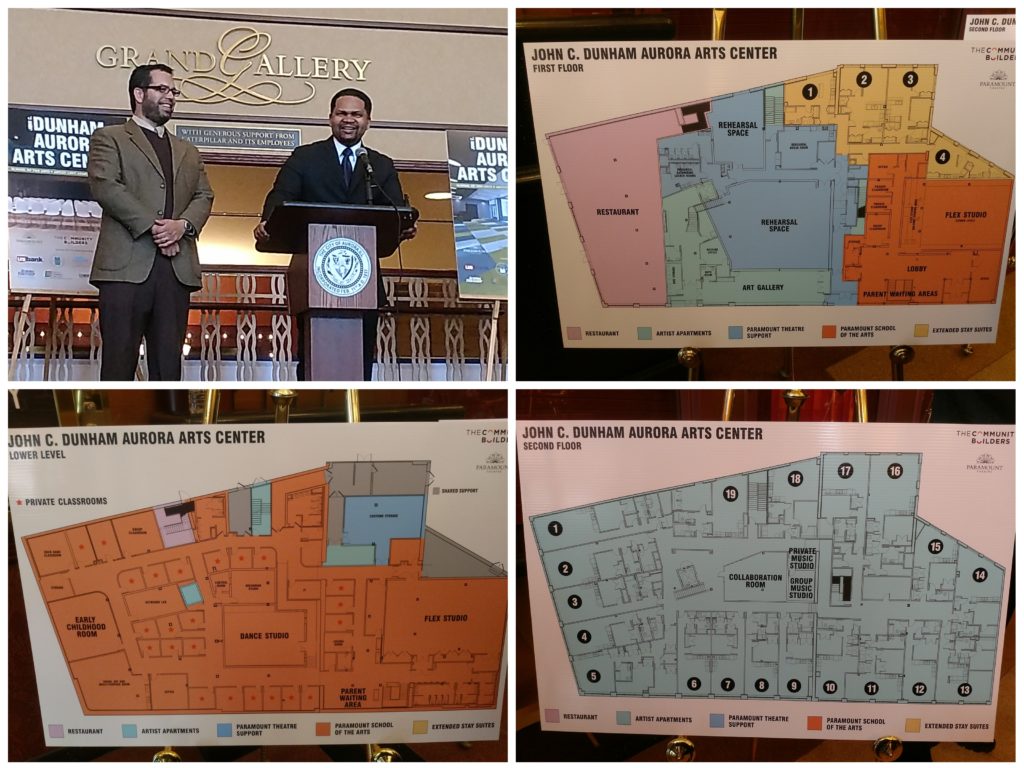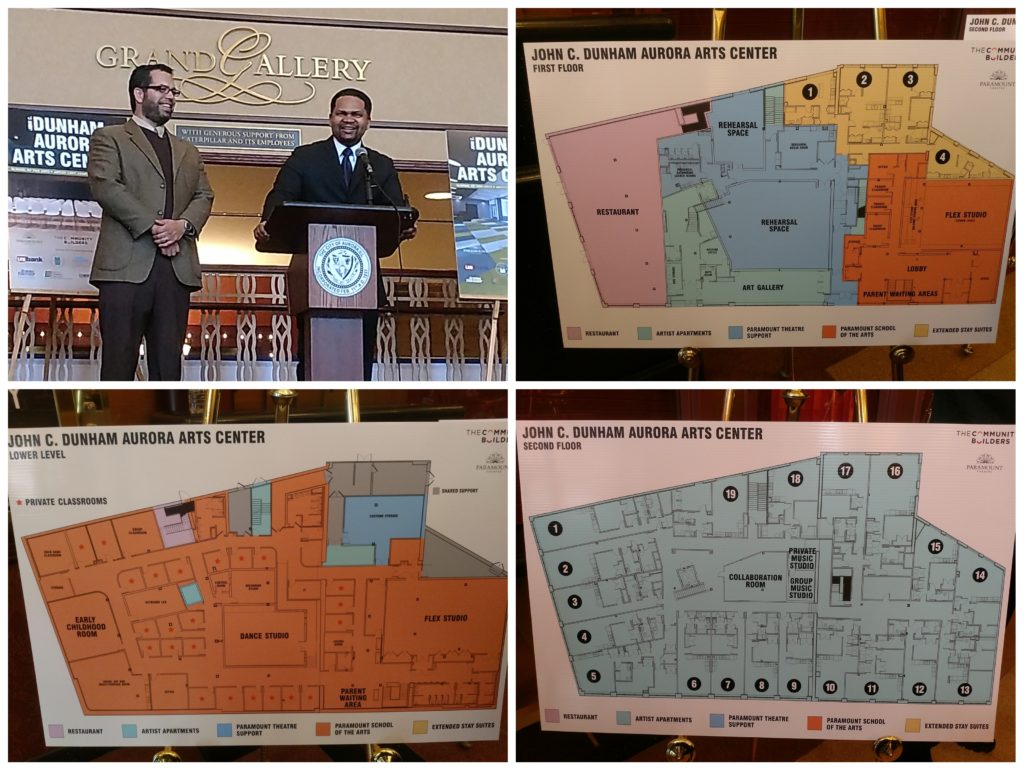 Aurora Mayor Richard Irvin at the podium alongside Deputy Mayor Rick Guzman at the March 5, 2018 preview of the John C. Dunham Aurora Arts Center that will provide thousands of cultural arts opportunities as a part of the downtown revitalization efforts.
CCLF provided an $869,000 line of credit to the Aurora Arts Center, a project of The Community Builders (TCB), to establish the John C. Dunham Aurora Arts Center as part of Aurora's downtown revitalization.  The three-story Arts Center will be the future home to the Paramount School of the Arts, providing rehearsal space, artist loft apartments, a fine dining restaurant and much more.  The Paramount Theater with its award-winning Broadway Series is drawing approximately 320,000 patrons annually to downtown Aurora, according to the Chicago Sun-Times. The Arts Center, located next door at 5 East Galena Boulevard, will begin to draw a younger demographic to the city's center.
This type of pedestrian traffic is needed in downtown Aurora, which has experienced a sluggish recovery from the economic downturn. The area is experiencing high vacancy rates in office buildings, as they tend to lack the modern facilities retailers require. Similarly, a better infrastructure will give consumers confidence when visiting downtown Aurora.
On March 5, 2018, Tim Rater, President and CEO of the Paramount Theater, provided a preview of the Arts Center and its projected impact in the city: "We will be able to start a new theater series that will complement what they are doing on the Paramount stage and, hopefully, thousands and thousands of people will benefit from arts education downtown."
Will Whitley, Development Director for TCB's work in Illinois, acknowledged the funders, contractors, donors and Mayor Richard Irvin for their steadfast support and involvement in this project.  He said the project could not have been possible without support from Dunham Fund, City of Aurora, Illinois Housing Development Authority (IHDA), Invest Aurora, Senator Durbin's Office, BMO Harris, US Bank, CCLF and TCB.
Christine Moran, Managing Director, IHDA, highlighted the unique mixed use of the facility, stating "IHDA was so excited to see the development team's proposals to incorporate affordable housing in the city plan to revitalize downtown Aurora.  This is a real milestone for the city and a valuable opportunity to transform historic buildings into much-needed community resources.  What had been a vacant building will soon be a high-quality rental community, where working households can find safe and affordable housing near jobs opportunities, education, childcare and all the services and amenities this downtown has to offer."
Whitley stated that this project has the distinction of being supported by three mayors, "This speaks volumes about the consistency of Aurora's leadership." He said Mayor Irvin moved quickly during his first days in office to advance the project forward. He was supported by Deputy Mayor Rick Guzman, who acknowledged the hard work of previous Mayors Weisner and O'Conner toward this revitalization effort. The Arts Center will be another key economic engine for the city.
Aurora's pro-economic growth strategy has been innovative, inclusive and well executed, and in many ways the Arts Center captures and showcases what Aurora is all about. The Center's school will bring thousands of people downtown for high-quality classes and events, and it will also provide scholarships to the children who reside in the complex's apartments. The Arts Center is scheduled to open later this year.