CCLF's mission of providing flexible financing that benefits low- to moderate-income neighborhoods received a substantial boost December 12, 2018, when JPMorgan Chase announced a $10 million long-term, low-cost investment to CCLF to support commercial real estate development on Chicago's South and West sides.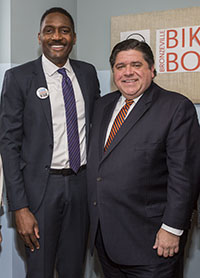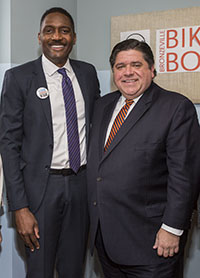 The announcement was made by Whitney Smith, Head of Midwest Philanthropy for JPMorgan Chase, at CCLF-funded Urban Juncture's Bronzeville Cookin'. Urban Juncture is a commercial retail developer rejuvenating Chicago's Bronzeville-Grand Boulevard neighborhoods with two sit-down eateries, a fresh produce market, and one take-out dining venue. Joining Smith for the announcement was Illinois Governor-elect JB Pritzker, JPMorgan Chase Chairman and CEO Jamie Dimon, and Bronzeville Cookin' Founder, Dr. Bernard Loyd.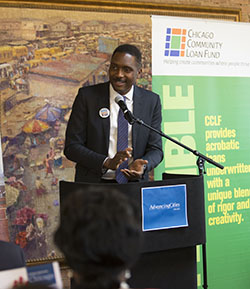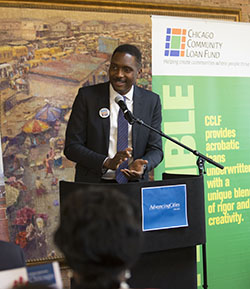 JPMorgan Chase began its support of CCLF's mission 20 years ago by providing grant funding for lending and operations. CCLF was the recipient of the first Chase PRO Neighborhoods Award in 2013, where CCLF collaborated with Neighborhood Housing Services of Chicago and the Community Investment Corporation to provide 593 units of affordable housing. In 2016, Chase funding helped launch CCLF's Activate Retail program, which provides low-cost financing for commercial real estate development.
Acknowledging the significance of this investment by Chase to CCLF, Governor-elect Pritzker commented, "Creating economic opportunity and prosperity in every community is at the top of my agenda, and I welcome companies like JPMorgan Chase making investments in neighborhoods across Chicago. You are helping lift up communities and lift up people in the state of Illinois."
"We want our support for the South and West sides to be sustainable and to encourage others to see the benefits of investing here too," said Dimon. "The partnership between government, business, and the community will help ensure this investment goes where it is needed most – helping those who have not benefited from Chicago's growth."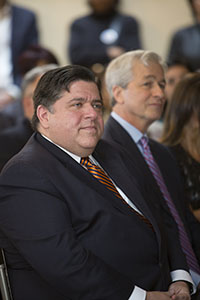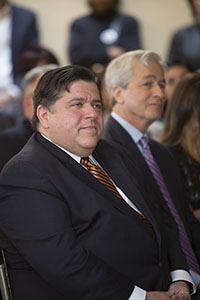 "I want to thank JPMorgan Chase for recognizing it takes big, bold steps to address joblessness, poverty and lack of retail available on Chicago's West and South sides," said Calvin L. Holmes, CCLF President. "I was astounded by JPMorgan Chase's $40 million commitment to Chicago neighborhoods last year, but I am humbled by the trust in Chicago Community Loan Fund to expand on that commitment with another $10 million for commercial retail development. CCLF accepts the challenge to put this new source of low-cost capital into projects that will bring goods and services back to the neighborhood."
Further exploring the need for and significance of the Chase commitment, a panel discussion followed the announcement. Comprised of Erica King, President, CNI Micro Finance Group, Corey Gilkey, CEO of Leaders 1326 and Friistyle Restaurant, Emmanuel Abidemi, owner of Bolat African Cuisine, Inc., CCLF President Calvin L. Holmes, and moderated by Charlie Corrigan, Vice President, JPMorgan Chase, the panel provided a deeper understanding of how investments in corridors benefit communities and help local businesses thrive.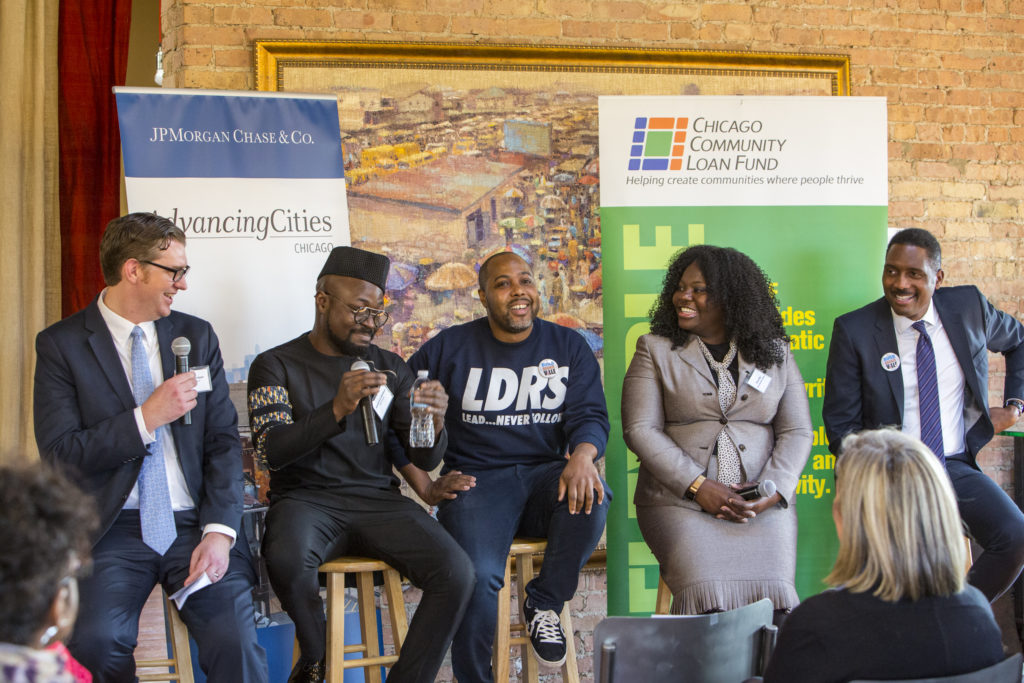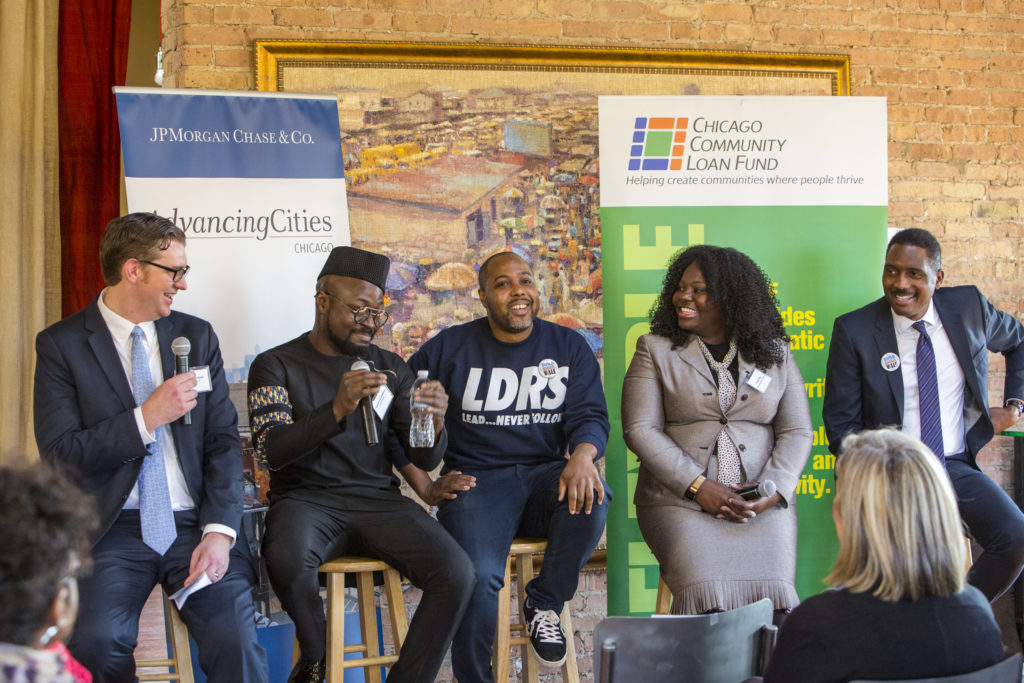 "We're seeing financing to the most underserved populations," King stated during the discussion. "And it's responsible lending. It's an opportunity to see businesses starting and jobs returning to the community."
Concluding the morning's announcement, Holmes observed, "This new investment propels CCLF's strategic commitment to increase commercial retail in low-income neighborhoods in Chicago. This will allow our borrowers to generate jobs for local residents and help their entrepreneurial tenants of color dismantle barriers to their economic empowerment."