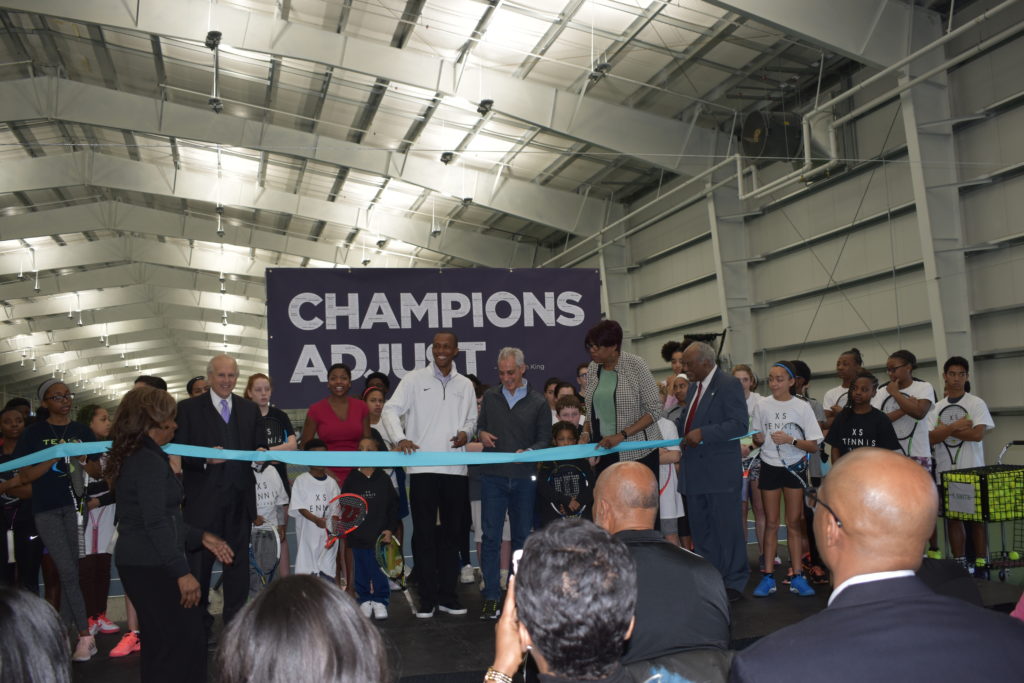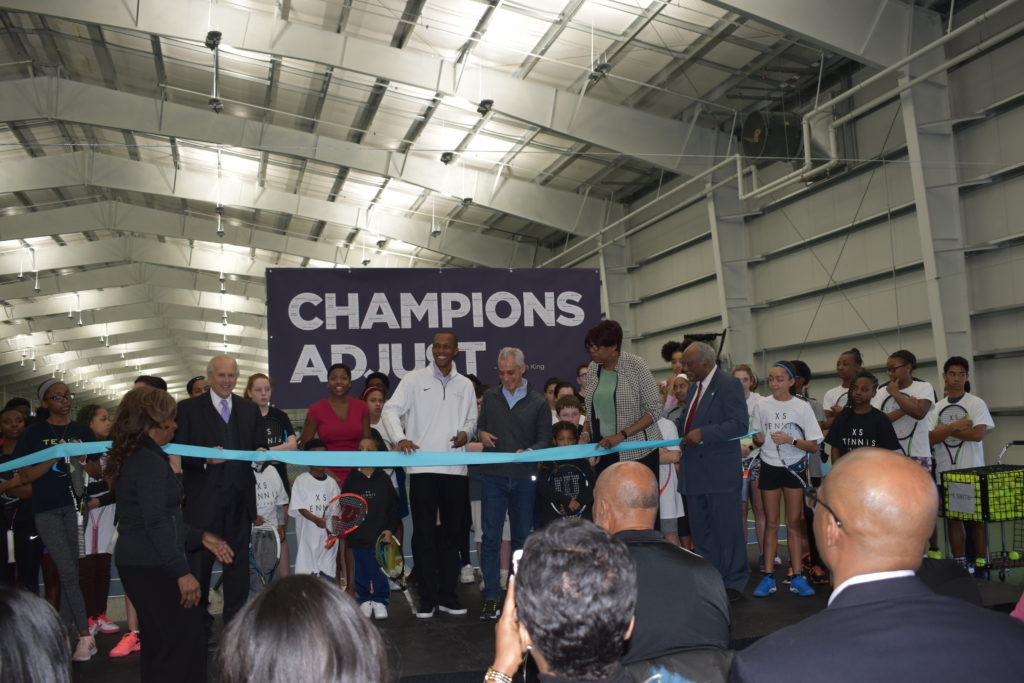 XS Tennis ribbon cutting ceremony March 3, 2018 where 6,000 youth per year will have access to 24 tennis courts, 2 basketball courts, a fitness room, multipurpose rooms for tutoring assistance and more.
March 3, 2018, marked a significant day for African American youth in the Washington Park community with the ribbon cutting of the XS Tennis and Education Foundation. XS Tennis opened its 112,100-square-foot sports facility with 8 indoor and 16 outdoor tennis courts, two indoor basketball courts, multipurpose rooms, a fitness room and administrative offices that are projected to be used by 6,000 youth annually. The ultimate goal of XS Tennis is to pave the way toward college for record numbers of African American athletic scholars. The opening of XS Tennis and Education Foundation, founded by Kamau Murray, makes it the largest tennis facility serving African American youth in the country. Murray is President and CEO of XS Tennis, and earned a full tennis scholarship to Florida A&M University, where he also earned his MBA. He is also the coach of Sloane Stephens, one of three African American women who captured the championship trophy at the US Open.
When Murray spoke about his dream to open a world-class tennis facility on the South Side of Chicago at the former site of the Robert Taylor Homes, one of largest failed public housing projects in the country, many potential stakeholders were skeptical. "Black people don't play tennis," was one of the many criticisms he met. Murray credits early supporters and his "dream team" that provided the financial means and moral support he needed to overcome the many hurdles involved in such a large development project. Chicago Community Loan Fund was one of the early XS Tennis supporters, providing $765,000 in financing and a $700,000 letter of credit. Murray's "dream team" included Alderman Pat Dowell, Mayor Rahm Emanuel, PNC Bank, IFF, National Community Investment Fund, Urban Partnership Bank, LISC Chicago and Eugene Jones from the Chicago Housing Authority. Congressman Danny Davis was also a strong supporter and was instrumental in securing federal resources, such as New Markets Tax Credits, for this project.
XS Tennis is currently serving 3,000 students per year at all levels of proficiency, coming from all parts of the city and suburbs, and that number will grow to 6,000. The program provides tutoring for students and sliding-scale fees so that, regardless of family income, everyone can have access to the highest quality coaching staff, including African American coaches. The US Tennis Association has already scheduled matches to take place at XS Tennis, bringing a national audience to Chicago's South Side.
Evidence of the positive way in which XS Tennis will shape the lives of thousands of youth was seen in Camryn Salter, who confidently introduced Mayor Emanuel during the ribbon cutting ceremony. Salter is a senior and proud captain of the varsity tennis team at Whitney Young Magnet High School. She is part of Chicago Public School's history makers, bringing them its first girls' State Tennis Title in 2017. She began playing tennis under the tutelage of Murray at age 8 and, ten years later, she has two full college tennis scholarship offers.
Salter eloquently painted a picture of the impact XS Tennis is already having on the community stating, "Mayor Emanuel, we are changing the narrative. In Chicago, black kids are playing tennis. We graduate from high school. We attend college. We receive tennis scholarships. We graduate from college and, like Kamau, we will grow into adults that will make significant impact on communities like this all over the world."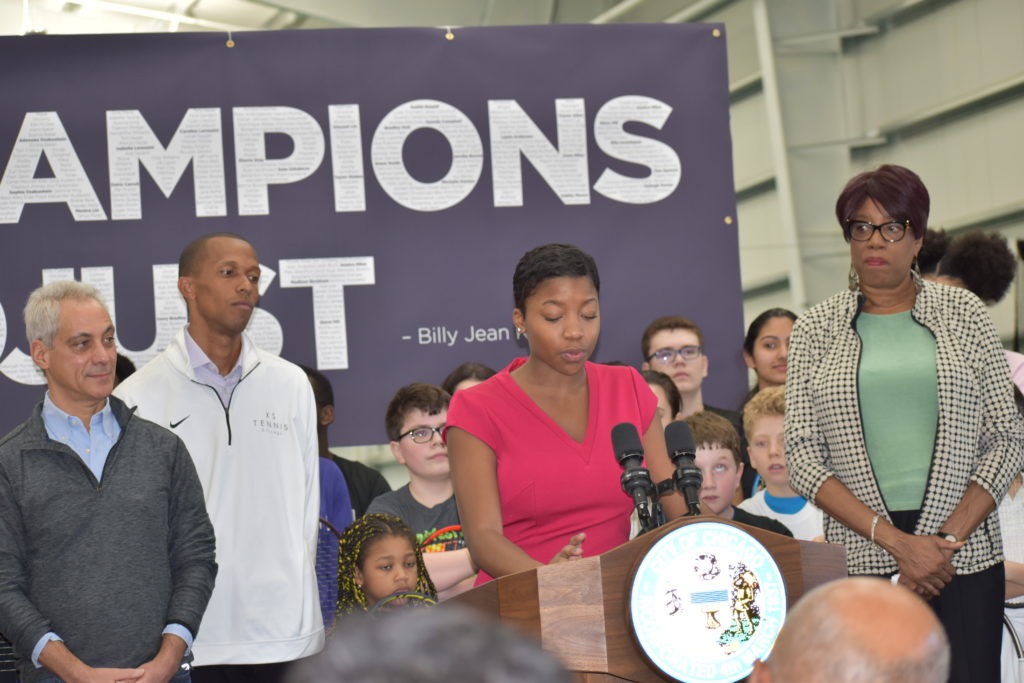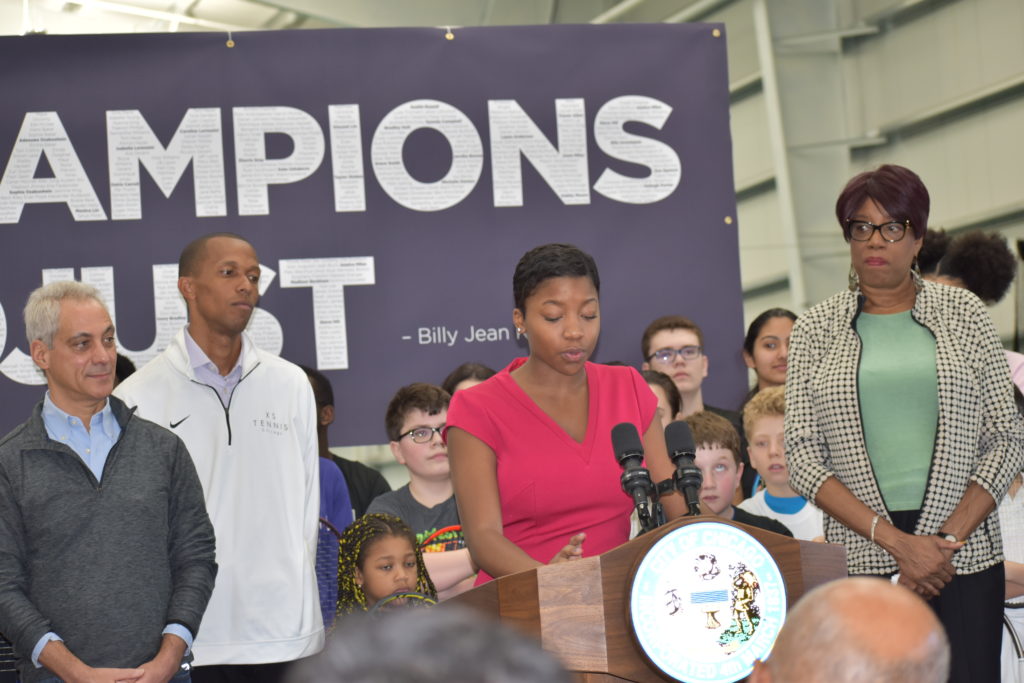 The captain of Whitney Young Magnet High School's varsity tennis team, Camryn Salter, introducing Mayor Rahm Emanuel at the XS Tennis and Education Foundation ribbon cutting on March 3, 2018, as young tennis players, XS Tennis CEO, Kamau Murray, and Alderman Pat Dowell join the celebration.