Despite changing trends and preferences, the science of printing and print production has endured since Gutenberg first introduced the printing press in 1436. The industry continues to flourish in Chicago's Humboldt Park neighborhood at Salsedo Press, Inc.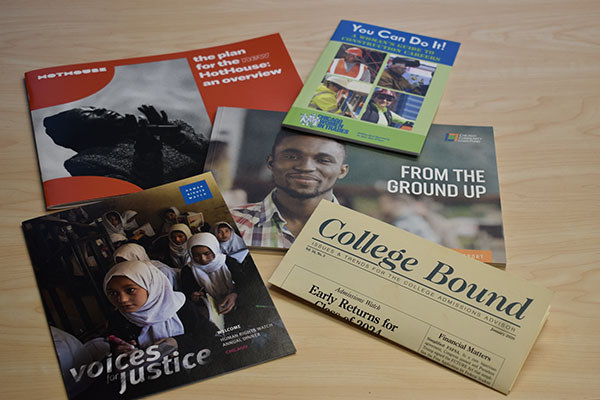 Established in 1969, Salsedo Press is a minority-owned worker cooperative firm that offers core printing and finishing services to produce a variety of products—brochures, annual reports, newsletters, posters and more—on recycled paper using soy-based inks. Salsedo has been a mainstay in the Humboldt Park community occupying a 17,000-square-foot building. The worker-owned printer has earned its reputation as a progressive business with social values and environmental awareness.
As a worker co-op, Salsedo is owned and self-managed by its workers who democratically participate in decision-making. CCLF specializes in providing financing for worker-owned co-ops as well as housing cooperatives and food co-ops in the Chicagoland region and supports the mission of wealth building for low- and moderate-income families by owning shares in the cooperative.
A repeat CCLF borrower, Salsedo is recognized for its brilliant, gallery-quality May Day posters recognizing May 1, a day of worker solidarity and protest for eight-hour workdays and safe working conditions.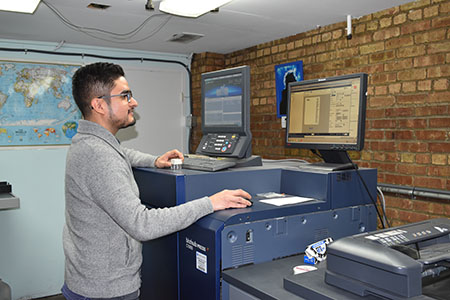 "We'd get a local artist to design a poster or mural or canvas and use it for that year's promotion," explains Pat Gleason who, along with Chris Burke and Victor Cortes founded Salsedo Press. "I think our earliest May Day poster dates back to 1979. At that point, the posters were very historical. Our last poster was in 2007. We'd host May Day events here with 400 to 500 people attending."
Nearly all of Salsedo's customers support the firm's mission to create more democratic workplaces, to educate the public and to produce printing with the least negative impact on the environment. As a result, Salsedo works with a diverse mix of clients, many from the not-for-profit sector, including The Obama Foundation, Bickerdike Redevelopment Corporation, Mujeres Latinas en Acciōn, and CCLF.
In an industry faced with rapidly changing industry trends, demand for shorter, nearly immediate turnaround times, and smaller print quantities, Salsedo's customers enjoy knowing that it buys recycled paper, recycles all the waste paper from the printing and binding processes, and uses organically based inks.
Salsedo's team is comprised of industry veterans with an in-depth knowledge of the processes and the machinery. All have seen the evolution of modern-day printing—from dark rooms and galleys, red lights and light tables. With a current staff of seven long-term employees, David Fernandez is the newest member with 14 years at Salsedo. Maria Arroyo, Receptionist and Bookkeeping, has been onboard for 30 years. Veteran Gilbert Martinez, a Pressman by trade, "has been printing since he was a child" and hails from a family that once owned a print shop.
Juan Carlos Martinez, Production Manager, another tenured team member, is the "bindery master extraordinaire." He has intimate knowledge of all of Salsedo's machines and keeps them in top form. "He's kept all the machinery running for decades," adds Fernandez. "Some equipment was used when we first got it and Juan Carlos has kept them running like new. "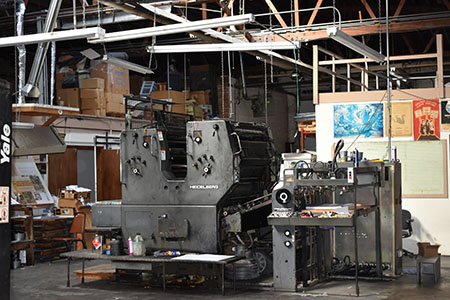 Carlos Jimenez, Pressman and Prepress, is another long-term team member who was integral in obtaining and establishing Salsedo's modern computer technology. "We've moved from floppy disks to burned CDs to ZIP drives. Now I'm doing the work of the pressman, prepress, and everything in one day with a few steps."
To date, CCLF has provided five loans to Salsedo Press, primarily for equipment purchases. "With CCLF's help, we purchased a printing [firm] that was going out of business," explains Salsedo's Pat Gleason, "and that was a very big boon for us. The press we acquired from that business with the CCLF financing allowed us to run six-page products [which were in demand at the time]. That helped us stay alive during the years when things were difficult."
"Our booklet-maker changed the game for us," adds David Fernandez. "We can do several different booklet projects at one time."
"CCLF has been really awesome in supporting us, helping us survive difficult moments, and allowing us to keep going all these years," Gleason continues. "We just love you! I feel we [Salsedo Press and CCLF] appreciate each other's missions, and there is a value connection I may not have with others. I feel we connect on a moral code and values basis. It makes for a great relationship."